Deepal Sooriyaarachchi, a well-known business consultant, has dedicated his latest book of the very popular Sinhalen Business series to 'insurance advisors' after he relinquished duties from active involvement in business as the Managing Director of AVIVANDB Insurance PLC.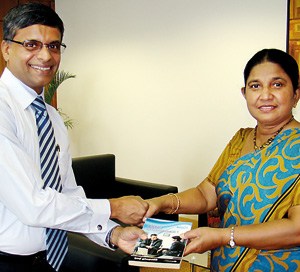 Seen here the author presents a copy of the book to the Chairperson of Insurance Board of Sri Lanka Ms Indrani Sugathadasa.
This is the 8th book in the series and titled "Rakshana Alevi Karuwaneni." He has captured 20 years of his experience in the industry and his insights are presented in his usual simple Sinhala with down to earth examples and witty captions that involves the reader.
The book was dedicated to the insurance advisors at the recently concluded NAFLIA congress the forum for life insurance advisors in the country. Since it is the insurance advisor who is the main person that brings the message of insurance to general public, Mr Sooriyarachchi says he argues that enhancing the professional competency is critical for the improvement of the industry and the benefitto the society.
It is estimated that an average agent has to contact 20 prospective customers to get 10 sales presentations to result in five life insurance policies. Assuming that approximately 500,000 new life insurance policies are sold annually the agents must be contacting at least five million prospective customers. If the competency is high of the advisors meeting prospective customers is the best form of education of people about the importance of insurance, he says. The book is initially distributed through the Sri Lanka Insurance Institute.