Nishan De Silva, Director of Information Management and Corporate Records Compliance at US-based Microsoft and his team, have been adjudged winners of the Law Technology News (LTN) Award for Most Innovative Use of Technology in a legal department.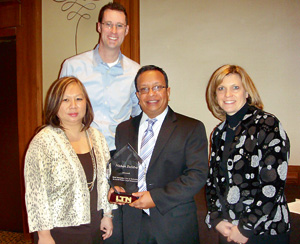 Nishan De Silva (centre) and his team
The LTN innovation awards recognize the efforts of individuals, firms, and law departments that go beyond current legal technology. The event which took place last month saw selections made based on longevity, creativity and new trends in technology.
Mr De Silva and the company's legal and corporate affairs team, conducted an internal project to develop a records and document management system to support 12 practice groups and 1,000 users.
Sharepoint 2010 was used as the cornerstone, to reduce the number of different information sites and streamline the processes and permissions to use them. It also helps users to access information they need without exiting Outlook.