SMB Leasing PLC (SMBL) and Lanka Ashok Leyland PLC (LAL) have begun the imports of luxury tourist coaches to the country to promote tourism, in response to a request by the government, SMBL said in a statement.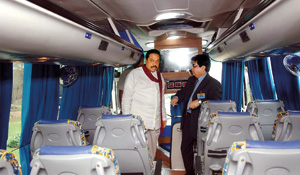 Picture shows President Mahinda Rajapaksa inspecting one of the coaches with Mr. Umesh Gautam.
Leasing facilities have already been provided by SMBL to the buyer of the first three imported luxury LAL tourist coaches. This move to promote tourism is the latest outcome of a partnership entered into by the two companies in August 2010, under which SMBL was appointed as the sole distributor and transport solutions provider for LAL for the Northern and Eastern Provinces. Umesh Gautam, CEO of Lanka Ashok Leyland said the coaches were imported shortly after he observed the shortage of tourist coaches in the country. The President personally inspected the first consignment of LAL coaches at the Temple Trees after it arrived in Sri Lanka, Mr. Gautam was quoted as saying.
"SMBL was able to respond promptly to support LAL with this initiative because of the partnership between the two companies," said Sumedha Fernando, CEO of SMBL. "We are happy to support a venture that facilitates the growth of the tourist industry in the country." He said SMBL expects Rs. 700 million in new business to be generated for the company this year through its partnership with LAL.