The Richard Pieris Group, latest in the stocks' game with its Richard Pieris Securities (RPS) venture, will soon apply for Exchange Traded Funds (ETF) to the Colombo Stock Exchange (CSE), an official said.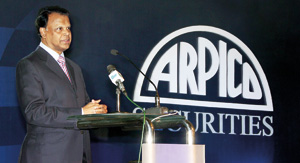 Richard Pieris Group Chairman Sena Yaddehige at the launch
"We are interested in ETFs and will be looking to apply for a certain class of ETFs to the CSE," Jayantha Perera, CEO RPS told the Business Times on the sidelines of the company's launch last week.
ETFs track an index, a commodity or a basket of assets and trades similar to a stock on an exchange while tracking an index, a commodity or a basket of assets and trading similar to a stock on an exchange. Mr. Perera said that for the first three months the company will be consolidating its existing business and then will be applying for ETFs.
According to the CSE, the ETF regulations are now completed and the investors will able to trade in certain securities such as gold certificates by March. Mr. Perera said that with the strong economic factors in place, the All Share Index in the Colombo bourse is set to breach the magical 10,000 points within the next 2-years.
He said that CSE's valuations are attractive with potential for strong growth in the medium term. "There will be more investments, consumer spending and tourist arrivals will bolster economic demand," he said. He added that interest rates and inflation are expected to remain low while increases in foreign inflows will strengthen the Rupee.