Government's plans to attract 2.5 million tourists by 2015 – from around 600,000 now -- and building the accommodation required for this should not lead to the unplanned expansion of hotels, a top hotelier has warned.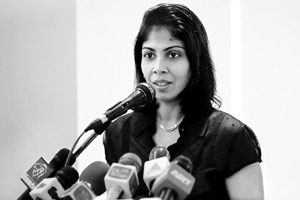 Ms Subhani Thambiayah Joint Managing Director also spoke at the launch
Chairman Renuka Hotels R. N. Thambiayah told reporters that unplanned expansion of hotels could lead to the price war. "In a price war there are no winners. Ultimately it will result in all the hotels losing money and ending up in ruin," he said, when asked to comment on state plans to attract more tourists to Sri Lanka, during a briefing to the media this week on the re-furbished Renuka City Hotel.
The company has spent Rs 125 million on the refurbishment gearing to cater to the ever increasing tourist arrivals experienced by the country. The media event coincided with the launch of the new website of Renuka City Hotel.
"With the minimum rate for Colombo hotels set it speaks of better times ahead," said Mr Thambiayah adding that Renuka Hotel has been in operation for 40 years much before its sister unit, Renuka City Hotel.
At the same event, Ms Arnila Thambiayah, Joint Managing Director stated that "the hotel has been redesigned to cater to the ever increasing number of discerning tourists. The newly refurbished hotel offers redesigned conference halls which can accommodate up to 100 persons at a time. These are equipped with the modern audio visual equipment and lighting. The guest rooms are provided with all the modern amenities including Wi-Fi, flat screen TVs, safety deposit lockers."
Commenting on the clientele of the hotel, Mr Thambiayah said "we have always been successful in retaining our clients. This is a result of a good staff that looks after the guest well. As a result of this we have always enjoyed good occupancy even at the worst of times." With regard to other expansion, Ms Thambiyah said that they would be building a new swimming pool and an ultra modern gym at a cost of Rs 50 million.