Colombo Dockyard PLC (CDPLC) has come of age in the ship building industry, building so far 217 various types sea vessels over the years. The company has completed and ready for commissioning its 11th large and highly complex vessel – 78m "Greatship Rohini" with the naming of the ship taking place on Wednesday at the Colombo Dockyard with Basil Rajapaksa, Minister of Economic Affairs in attendance.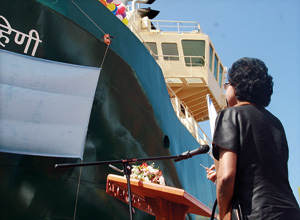 Dr. (Mrs) Chandrika Yapa, wife of Colombo Dockyard Managing Director Mangala Yapa, seen ceremonially unveiling the name of the vessel. Pic by J. Weerasekera
Mangala Yapa, General Manager, CDPLC told reporters after the ceremony that the value of the Greatship Rohini is around US $ 26 million and fresh orders have been pledged for US$ 240 million to build several more ships.
The Greatship Rohini was built for Greatship India Ltd. It has been commissioned for five years by Fugo Subsea Services (Petrobras), Brazil – the fourth largest oil company in Brazil. Ms Mathilde Scholtes, Managing Director of this Brazilian oil company was present to take charge of the ship which would be sailing to Brazilian waters shortly.
The ship is equipped with highly sophisticated Remote Operating Vehicle (ROV), with its auxiliary launch and recovery systems. The ROV is an underwater robot, with multifaceted complex maneuvering, used in the offshore industry for various duties on sub-sea structures; hydrocarbon sample extraction, well-head and pipe line inspection, repairs and modification and even damage control work.
Mr Yapa said that the breakthrough for ship-building came during the J R Jayawardene-led government when they tried to get an order for ship building. He said that though there were doubts whether Colombo Dockyard would be able to do the job, Lloyds Register of Shipping allowed the undertaking to test CDPLC's competence.
CDPLC was established in 1974 and underwent major restructuring and became a public listed company. It is equipped with comprehensive shipbuilding ship repairing facilities.
Mr Yapa said that as a shipbuilder the company specializes in the construction of specialized vessels for the oil and gas exploration and production; such as Anchor Handling Tug Supply Vessels, Multipurpose Platform Supply Vessels, Platform/ROV Support Vessels, Crew Boats, Passenger cum Cargo Vessels, Harbour Berthing and Towing Tug Boats, Landing Craft, Aluminum hull highly maneuverable and high-speed Patrol boats, Offshore Patrol Boats for Navies and Coast Guards etc.