Sri Lanka's top ranked female table tennis player, Nuwani Navodya used her speed and guile to dismiss Nirmani Silva 11-8, 11-6, 12-10, 11-5, during their fourth round National Table Tennis Championship match at S. Thomas' College, Mount Lavinia yesterday.
Nuwani was constantly a step ahead of her opponent, working herself into better positions and returning the ball with lightning quick reflexes. During the match's opening exchanges, Nirmani struggled to return the ball back into play and a flurry of unforced errors helped Nuwani race away to a 7-4 lead. A powerful slap down the table later and Nuwani had clinched the opening set.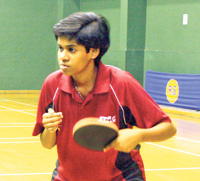 Top ranked women's player Nuwani Navodya in action. Pic by Nilan Maligaspe
The second set continued much the same way as the previous one with Nuwani frequently playing on the offensive while Nirmani innocuously fended the ball back over the net. This resulted in the set flying by in the blink of an eye and soon Nirmani was two sets down and staring down the barrel.
However in the third set Nirmani finally began to find her niche and was gradually beginning to calm her erratic play. Her strokes were a lot more measured throughout the set and as a result they were finding the corner of the table with increasing frequency.
Nuwani though responded in kind and she kicked things up a notch by pelting home some rocket forehands that left Nirmani frozen in her service stance. Before long the score was 10 all and Nirmani knew the match had reached a critical juncture; she needed the next few points in order to keep her chances of victory alive.
But once again her opponent proved too powerful, darting across her end of the table to send back each of Nirmani's venomous strikes with interest and secure the third. Afterwards the match was effectively over and Nirmani eventually capitulated in the final set to hand a well deserved victory to her opponent.
In the other fourth round matches played during the day, the number one ranked men's player, Rohan Sirisena beat R. Chathuranga to book a place in the quarterfinals against the 16th ranked, Sajith Kavinda. All the quarterfinal matches will be played today at S. Thomas' College, Mount Lavinia.