A section of the national cricket selectors which comprised Chairman Aravinda de Silva, Ranjith Fernando and Shabhir Asgerali along with the national cricket captain Kumar Sangakkara met the media last evening to explain their stand on the final set of fifteen players who will face the 2011 Cricket World Cup for Sri Lanka.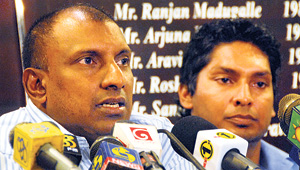 Sri Lanka Cricket Selection Committee Chairman Aravinda de Silva explains matters to the press yesterday while national cricket captain Kumar Sangakkara looks on. (Pic by Sanka Vidanagama)
Explaining their position on the non-selection of the two former veterans Chaminda Vaas and Sanath Jayasuriya, de Silva said that it was not only a huge decision that they had to take but a very emotional one too, but he justified it by saying that they were responsible to 20 million Sri Lankans while taking decisions and emotions do not have room in them.
Aravinda de Silva also added that like the two veterans it was also hard to leave out off spinner Suraj Randiv, but when trying to bring in the right combination that suits all, he too had to be left out.
However, he added that before announcing the final squad he had chats with the three players concerned and added, "It was a very hard decision and an emotional one for the four of us to leave out two great cricketers like Vaas and Jayasuriya, however I know that they have a great future ahead of them where they could contribute towards Sri Lanka cricket". "Even Suraj Randiv has not done much wrong to be out of the squad, but when you take the combinations and variations into consideration we had to make that hard decision. In reality those are the three players that I mostly feel for."
Explaining especially about the non-inclusion of Vaas, de Silva said, "If Vaas was selected he would have been there to use the new ball. We have two bowlers who do that well in Lasith Malinga and Nuwan Kulasekera. The toss of the coin for the place was between Kulasekera and Vaas, because they both bowl similar kind of deliveries at the same speed but Kulasekera has been a consistent performer in international cricket in the recent past and the vote had to be cast against his name."
When asked as to how they made their choice on inconsistent Dilhara Fernando the selection committee chairman said, "Dilhara Fernando is the second bowler we have besides Malinga who could deliver at 140+ and we always have to cover Malinga in case of a breakdown and what we expect of Dilhara is to be a strike bowler."
Then explaining the inclusion of five right arm seamers in the side Aravinda said, "Out of the five seamers two are allrounders. They are not fast bowlers as such, they bowl at around 125-130 and Kulasekera also falls into this category. That is where Chaminda Vaas was probably competing. If you take Dilhara, we expect him to bowl at 140 and over."
Talking of batting and the about the third opener, the Selection Committee Chairman Aravinda de Silva said, "We have decided to go with Mahela in case there is a need for a third opener, we are playing only eight games and we do not want to bring in an extra player and change the set combination of options or else it might be another player who is at present batting way down in the order."
Meanwhile it was also known that the Lankans will take on the West Indies on their postponed ODI series on January 31 and February 4 and 6.
Vaas to announce retirement from international cricket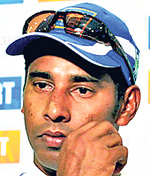 Disappointed Chaminda Vaas who was once again ignored by the national selectors will announce his retirement from international cricket at the end of the 2011 World Cup tournament that will get underway next month.
The Sri Lankan cricket selectors led by Vass' former team mate Aravinda de Silva left the champion seamer out of the final squad of 15 after having included him in the preliminary thirty. The 36-year-old veteran of 111 Test matches and 322 ODIs said "Anyway this was going to my last World Cup and I was preparing well for it. I knew that I was bowling well in the present context and I thought that the Premier League performance was good enough a platform. Yet, they now have selected the best fifteen as how they feel and I will go by that.
"I wish them all the luck they need and also hope that they would bring home the World Cup as we did in 1996." When asked about his future plans, Vaas said "I have a six month stint with Northamptonshire and also may be the IPL. For myself I see no further international that would come my way and I will announce my retirement at the end of the 2011 World Cup".