Mahesa (Mahes) Rodrigo one of Sri Lanka's early double-internationals has passed away after a brief illness. Mahes represented his alma mater, Royal College and later his country then known as Ceylon, both in cricket and rugby football as a diminutive wicket-keeper and scrum half respectively. His clubs were the Sinhalese Sports Club (SSC-cricket) and the Ceylonese Rugby and Football Club (CR&FC-rugby). He was particularly fond of the 'CR' where he was a live-wire for decades as a Life Member.
He was 84 years old.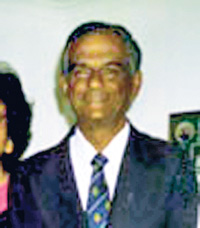 Mahes Rodrigo
Mahes Rodrigo played as Ceylon's wicket-keeper in the pre-Test status era and his 12 first-class appearances consisted of matches against Pakistan, the West Indies, Commonwealth XI and the Marylebone Cricket Club, amongst others. He also took the field for Ceylon in a one day match against Don Bradman's Australians in the 1947/48 season.
In 1949, at 20 years of age he represented the country in cricket, blasting 135 not out, as an opening batsman against 'fiery' fast bowlers of a first class West Indian test cricket team that visited the island. It was considered the 'gutsiest' innings played by any batsman on the 'Sara' Stadium Grounds described as 'the fastest, grassiest and bounciest' ever seen. In the 'one-dayer' against the world famous Australian test team captained by the great Don Bradman, Mahes performed with great distinction scoring a confident 26 runs and taking a 'superfine' catch to dismiss Loxton in the outfield.
Playing under the brilliant and crafty F. C. de Saram, young Mahes received his 'baptism' into big-time Cricket in the company of classy players like, B. R. Heyn, Sargo Jayawickreme, C. I. Gunesekera, R. L. de Kretser, S. Nagendra, V. G. Prins, M. Sathasivam, Bertie Wijesinghe, Sathi Coomarasamy, Ben Navaratne, Malcolm Spittel, Lucien de Zoysa and C. V. Abeysekera, to name a few.
In later years, Mahes coached several Royal College teams both cricket and rugby in the 1960s and early 1970s. Mahes never demanded respect but he commanded it, which he duly received from everyone who was associated with him. His 80th birthday was celebrated in style at the '80 Club' and in the midst of the gathering, shining out were Golden Oldies Bertie Wijesinghe and his wife Doreen, Ian Peiris, the Cambridge Blue and his wife Gun, Gamini Salgado, the 1942 Royal cricket captain, Summa Navaratnam, yet another die-hard old Royalist, also a ruggerite and once renown as Asia's fastest sprinter, Ifthika Cader to name a few. Joining him on this grand occasion were his charges U.L. Kaluaratchi, Vijaya Malasekera, Shaw Wilson, Chanaka De Silva, Malik Samarawickrama, Jagath Fernando, Susantha Ratnayake, Dhammike Wedande, Ray de Silva, Nalin Pattikirikorale, Ana Wimaladharma, Dr. Fred Perera and other vintage cricketers and ruggerites.
Glowing tributes were made to Mahes at this reception. The tributes paid to Mahes were sweet and were relived by greats such as by Bertie Wijesinghe who said: "He keeps some things to himself and never throws his thoughts around. He is quite a shy personality, but never shy when the pressure was on. A great pal since my days at the SSC."
The cortege lies at his residence at No. 69/8A, Senanayake Avenue, Nawala till 2 pm. today (Sunday) and will leave for the General Cemetery, Kanatte at 3 pm., The Royal College Union has requested past cricketers and rugby players of the College to be present at the Main Gate of the cemetery at 2.15 pm while the General Committee of the CR & FC have requested members to be present at 1.45 pm clad in club tie.