Influenza which is commonly referred to as flu is an infectious disease. As influenza is caused by a variety of species and strains of viruses, in any given year some strains can die out while others create an outbreak of disease. Another strain can case a plague.
Schools rugby has always been like an influenza that has broken out. Sporadic and damning at times but dies out eventually. Unfortunately they break out every year causing sudden damage threatening to immobilize the game as flu would. The last attack was during the school knock out stage and the issue which ended in the portals of justice still remains unsolved. The scars still remain though the initial outburst has died down. The after effects are still in the minds of those that were affected.
The team that won the league and sevens missed out of being triple champs. The captain of St Peters Keith Gurusinghe missed an opportunity that will never come in his lifetime. He leaves school and behind him a chance that will never come again. This year, even before the season starts, the uneasy feeling is in the air. The tournament rules of last year have been disregarded leading the way for confrontation. The contents of the tournament rules have been disregarded in the allocation of point in an abandoned match which is declared a draw.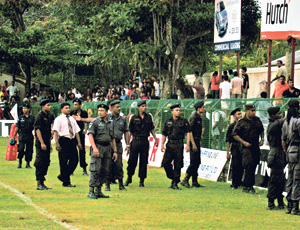 This resulted in Science College who were to be the second team in group "B" registering their protest. This is where Simple Simon steps in and says let both teams play in the league. No consideration and other implications are not considered and lead to rising temperature form Dharmaraja College. They protest on being relegated and lead to another court case and possibly another issue that is fast spreading like a cancer.
There seems to be no learning form issues that arise year in year out that threatens the game at school level. It is a pity as these affect the school boy in a way that will never allow him another chance. The answer should be to correct this issue by having a guidance group consisting of the governing body, respected members of a rugby fraternity, schools section and the ministry of sport. People who can guide and s arbitrate as there is a long time damage that is being inflicted. It also affects the lovers of the game who are numbers that prefer to watch a good schools rugby match. Else schools should go back to play the traditional matches that will be more satisfying.
The suggestion that is being considered as a way out is to have twelve schools for the league This has lead to a howl of protests by the leading rugby playing schools who say the number of matches are too much. According to a senior official of the schools section there is another proposal that is being considered. That is to have two sections in group A consisting of six teams each. That will mean each school will have to play five matches. The next stage is for the first four teams of one section to play the other four once again on a league basis. That will mean another four games making a total of nine matches. This seems to be a logical and workable proposition. Let us hope the people involved will be able to pull through this suggestion. Convincing the big eight or ten is what is important. What should be avoided is to try and push through a vote where numbers prevail. The numbers will involve a decision being forced on the few who are affected, by the many who are not the best rugby playing schools. Involvement and discussion can carry this through without being forced to accept.
All this is a result of losing the spirit in which sport has to be played and enjoyed. Anything to make an issue than be a model to the students is what is upsetting the bucket. At every point the game is being driven to be a nesting place for cuckoos. It is not only the schools that may need a good doctor to end the epidemic that is seen but the whole game seems to need one. A game loved and followed by most is being lead down the garden path. No aim, no vision just to adorn numbers on records and satisfy the whims of some to the detriment of others. It seems that when you blow the nose the ears begin to squeak and the tonsils get red and hopefully the flu season will be over. Otherwise it will be trip to the intensive care unit.
Self reflection and inward search will be great and we hope things will roll out in the right direction. It is sad because the ethos of rugby is what can make a better man from the boy at school. Very soon we may have to appoint a lessons learnt commission to put things right.
Vimal Perera is a former Rugby Referee, coach and Accredited Referees Evaluator IRB