Sri Lankan Athletics has a busy calendar of events ahead of it in 2011, as it looks to rebound from what the Amateur Athletic Association of Sri Lanka's Secretary, Prema Pinnawela, calls "a poor year where we did not perform as expected".
The long list of local and foreign tournaments starts steadily in January, with the National Cross Country Championships and the Nagpur International Marathon in India, before gathering steam later in the year. Things will really begin to heat up in April and May with the commencement of the 1st and 2nd legs of the National Athletic League, the Thailand Open Track and Field Championships, the Philippines National Track Open in the Philippines and the three legs of the Asian Grand Prix Series in China.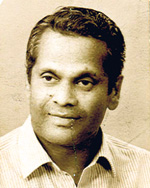 Prema Pinnawela
Alluding to the country's dismal performances at prominent foreign tournaments such as the Asian Games, Mr. Pinnawela said it was extremely disappointing to see the sport slipping from the great heights of the mid and late nineties.
"What is needed is a major improvement in development. We need to change our current training methods, start using modern techniques and technology," he voiced. Giving credence to his suggestion was the identification of a technical flaw in sprinter Shehan Ambepitiya's running style through the use of video analysis, provided by Chinese officials.
He also called for improvements in local sports medicine with regard to player treatment and recuperation. He did however express his satisfaction over Sri Lanka's performance at the Asian Grand Prix and the Asian Open Championship.
"We have a lot of talented athletes coming up besides Shehan Ambepitiya. One of them, whom people will have to look out for, is Chandrika Subashini," Mr. Pinnawela revealed. During the early part of last year, Subashini secured two gold medals in the 200 and 400 meter events and silver in the 4x400m relay, at the South Asian Games in Bangladesh.
The big international tournament in 2011, in which the Lankans will be hoping to produce a fair representation of them will be the 13th IAAF World Championships in Daegu, Korea this August. That month will also house the local circuit's most significant competition, the National Championships, which will be worked off in Diyagama.
There will also be several junior athletics meets held throughout the year, with the pick of them being the Junior National Championships and the IAAF World Youth Championships in France in June and July respectively.