Sparklink Travels this month marked 31 years as a market leader in travel and tourism in Sri Lanka.
Over the years the company has established international links especially with China, which has been helpful towards the growth of Sparklink.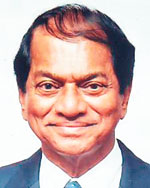 Nihal Perera
"We have Special Group Tours to the Canton Trade Fair, Budhgaya and Holy Land. Tailor-made tours to China, India, Thailand, Singapore, Dubai, Malaysia, Indonesia are arranged for families and Groups," said its Chairman Nihal Perera, a former director of the Sri Lanka Tourist Board, and past President of the Travel Agents Association and IATA Agents Association.
He said the road to success was achieved mainly with the help of their valued clients, the dedicated staff, friends, families, the clergy of all religions, airlines, Ministry of Tourism, Sri Lankan Tourism, Civil Aviation Authority, etc.
"We express our gratitude and sincere thanks to all those who helped, us to grow from small beginnings to achieve success as a market leader," he said. The team includes Praki Perera, Managing Director and Dilshan Samaranayake, Director/ General Manager.