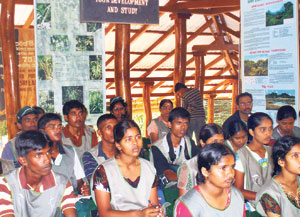 Picture shows students at the workshop.
Sri Lanka Telecom (SLT) conducted its 35th workshop at Sinharaja Forest Reserve, under one of the company's major ongoing Corporate Social Responsibility (CSR) in which 20 boys and girls and six teachers from Mahajana College, Tellipalai, Jaffna participated.
Since the year 2006, SLT, in collaboration with the Field Ornithology Group of Sri Lanka (FOGSL) has been conducting these workshops for students from schools located throughout the island in order to raise awareness amongst the younger generation of the importance of nature conservation.
This is the first time students from a Jaffna school participated in SLT's "Preserving Heritage for Tomorrow" programme.