The Jetwing Hotel group this week sold its entire stake in Tropical Villas, the hotel property adjoining Confifi hotels at Beruwela to the LOLC Group in the 'larger interests of tourism', according to Jetwing Hotels Chairman Hiran Cooray.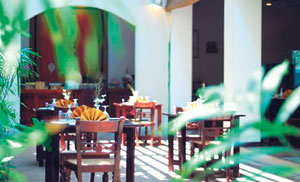 View of the hotel
"We decided to sell in the larger interests of tourism as it gives LOLC an opportunity to develop that entire stretch. We also got a good price for it," he told the Business Times. Jetwing's 60% stake was sold for Rs 310 million to LOLC Group, a new kid in the block in the leisure sector. The balance 40 % in the hotel which has 50 luxury villas is owned by the Hayleys Group. Earlier in May, the LOLC Group acquired major stakes in Palm Garden, Riverina and Eden hotels coming under the Confifi Group umbrella.
Mr Cooray said with LOLC looking for a manager to manage these hotels, 'we may also be invited to bid'. LOLC said in a statement that a few reputed international hotel chains have expressed interest in managing these four hotels (including Tropical Villas) on 25 acres of prime beach land called the 'Golden Mile' where the properties are located.