Sri Lanka's Central Environmental Authority (CEA) is taking action to manage electronic waste with the assistance of the private sector as this would be a serious problem in the near future, a senior official said.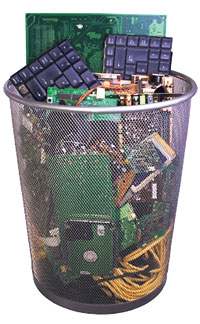 CEA Chairman Charitha Herath told the Business Times that increasing use of hi-tech products creates more electronic waste in the country leading to many health and environmental hazards. The CEA will launch island-wide e-waste management campaigns and programmes under a common theme and a logo. A committee comprising members of the stakeholder institutions will also be set up for planning the future programmes, Mr Herath said.
The Ministry of Environment is also devising a policy to reduce the creation of e-waste and prevent toxic components, he revealed. "Earlier we were thinking about establishing a dedicating recycling facility but then we understood that the Sri Lankan market is small and so it was not financially viable for the private sector to come in at this point of time," he said.
These decisions were taken at a stakeholder meeting on e-waste management held on August 12 at the CEA, chaired by the Minister of Environment. Anura Priyadarshana Yapa with the participation of the Secretary, Ministry of Environment, Chairman CEA and the Director General of the CEA. At present some telecommunication companies have moved on with successful collection systems for used mobile phones while considerable amount of e-waste continues to be recycled in the informal sector.
Almost all of these processes are rudimentary in nature and could be dangerous and toxic. Some processes involve burning, breaking of CRT (Cathode Ray Tube)'s and other chemical and physical processes to recover materials. These result in release of toxic materials to the environment through emissions and effluents and there is also great potential to cause health impacts to the workers involved in these processes, Mr Herath said.
A recent study conducted by the Ministry of Environment and Natural Resources and the CEA revealed that the penetration rate of mobile phones reached 40% in 2009 as against the penetration rate of 28% in 2008. According to the annual report of the Central Bank, 2009 usage of mobile phone reached up to 85% on subscriber base. Annual growth rate estimated for the other major e-items include: Personal Computers 8-10%, Printers 5-7%, Televisions 6-8%, Refrigerators 4-6%, Air-Conditioners 4-6%, Photocopy Machines 2-4%, Washing Machines 6-8% and Batteries 4-6%.
Mr Herat said "While there have been some initiatives to set policies and regulations for e-waste management, overall, these hazardous wastes are currently disposed of in a haphazard manner in roadside dump yards as well as in home gardens". Under this set up the CEA will devise a policy to tackle this problem, he added