University of Kelaniya management students with their presentation on back-office legal services for clients from the western hemisphere emerged victorious in the inaugural MTI Start-Up Venture Competition, beating more dynamic private sector teams in the final, in Colombo on Tuesday.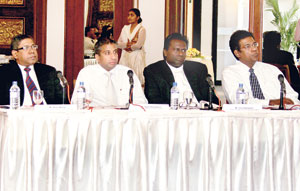 Judges
The Kelaniya University lads bagged the gold by making their presentation on KPO (knowledge process outsourcing) venture in a very simple format avoiding complex business jargon, the panel of judges said. John Keells Capital team who presented a diagnostic health centre venture was the first runners-up and Team Zion with a carbon credit business proposition finished as second runners-up.
Sixteen youth teams from business schools, universities and professionals from corporate organizations took part in this innovative business competition organized by MTI
Consultancy. Three teams made presentations on their business plans in the final, teams before a panel of judges consisting of Riyaz Mihular, partner at audit firm KPMG, Ishara Nanayakkara, vice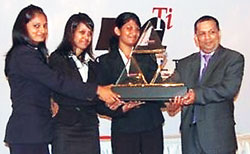 The winners
chairman of LOLC, Chris Dharmakirti, executive director at Strategic Enterprise Management Agency, Lalith Hapangama, chairman Lalan Group, Maithri Wickramasinghe, attorney-at-law and Hilmy Cader, chief executive of MTI Consultancy.
The panellists were of the view that business plans presented by John Keells Capital team and Team Zion, had failed because the business plans were not in a simple financial sense and in an easy-to-understand way.
They added that the two teams covered technical details in a comprehensive manner but without making it attractive to business enterprises, the focus of their plans. The financial viability of all projects was weak, the judges said. This venture challenge has helped young professionals to improve their creativity, entrepreneurship and bottom line thinking, they added.