It all began when I was seated at my mother's feet. Her name is Nelum Perera. She was recounting her school days and how much she used to enjoy participating in sports. She had won many prizes and certificates for various track and field events. The joy in her face and the experiences she had because of sports, instilled in me a great liking for the same.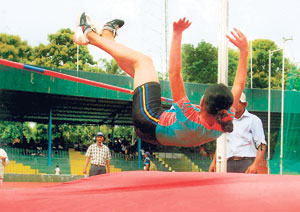 It was after this that I started applying myself to sports. This was when I was in Grades 4 and 5. My pet events were the High Jump, Long Jump and 100 metres. The first medal I won was a bronze. This showed me that if I could win a bronze then it was only a matter of time, patience and hard work until I won the gold. I Navodha Dananjali Perera was more determined than ever to reach the top.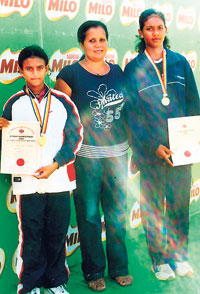 My hard work and dedication paid off at the Western Province Zonal Competition 2009 where I cleared a 1.43 height and won the shield in the Under 13 category for High Jump. This was the meet record for that year. I also won first place for High Jump at the meet organized by the Sri Lankan Schools Athletic Association that year.
These have been great achievements for me but I have a long way more to go. At some point in the future I want to represent my beautiful country at the Olympics. I believe it is possible. My parents and brother have been a constant source of guidance and support and I know they will always stand by me. My Principal at Good Shepherd Convent Panadura, my P.T instructor Mr Augustine Appuhami and my coach Mr. A.S.P. Chandrasekara have been pillars of strength.
It is my dream to travel through Sri Lanka and hopefully be able to inspire others not to give up, but to persevere and achieve their dreams. I have achieved some of my dreams and will continue to reach for the stars.