Club officers for the tenure 2010/2011 have been duly elected at the Annual Business Meeting held on 09th June 2010 at Sampath Centre, Sampath Bank PLC.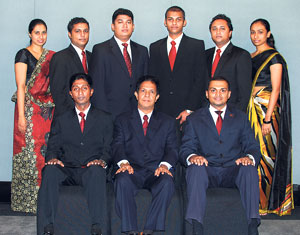 Seated from Left: Nalin Basnayake (President Elect), Aravinda Perera (COO of Sampath Bank / Facilitator), Bimal Liyanage (Out going President) Standing from left: Luckmanthie Dassanayake (Secretary), Lahiru Thanushka (VP Membership), Amila Weerasinghe (Sergeant at Arms), Sajitha Kewitiyagala (VP Public Relations), Harsha Abeywardhana (Treasurer), Mihiri Ranaweera (VP Education)
All elected officers were installed at the 11th Presidential Installation Ceremony of Sampath Bank Toastmasters Club (SBTMC) held on Sunday the 11th of July 2010 at Jaic Hilton, Colombo 02. Incoming President Nalin came out with his theme for the tenure 2010/2011 as "Make your Mark ".
Chief Guest of the function was Mr.I.W. Senanayake, Chairman, Sampath Bank PLC and Mr.Aravinda Perera Chief Operating Officer/Executive Director graced the function along with corporate management of Sampath Bank.
Sampath Bank Toastmasters club (affiliated to Toastmasters International) started in the year 2000 as the 1st corporate club in Sri Lanka. It was also the 2nd Toastmasters club in Sri Lanka. Mission of the club is to provide a mutually supportive and positive learning environment in which every member has the opportunity to develop and practice communication and leadership skills, which in tern foster self-confidence and personal growth.
Club tenure is from 01 st of July to 30th of June in following year. SBTMC has managed to win following Awards during the last ten years.
Achievement Year
President's Distinguished Club Award - the highest level of recognition available. 2009/2010
2008/2009
2005/2006
Select Distinguished Club Award 2003-2004
Distinguished Club Award 2007-2008
2006-2007
2004-2005