In the search for new professions for the young students who have dreamt of being a professional medical doctor, and missed it for some reason, the former Deputy Governor of Central Bank, Mr. W. A. Wijewardena has recently indicated in a television interview that, Bio-medical Science should be promoted as a course in Sri Lanka, and it can develop the new profession of Bio-medical Science.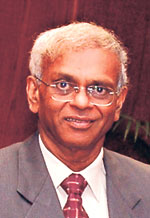 W. A. Wijewardena , President, BMS
This news has immensely encouraged students to look for Bio-medical courses in Sri Lanka.
Bio-medical science is the term for the investigations carried out by Bio-medical Scientists on samples of tissue and body fluids to diagnose disease and monitor the treatment of patients. The role of the Bio-medical Scientists involves many aspects from cancer screening to diagnosing HIV, from blood transfusion for surgery to food poisoning and infection control.
Bio-medical Scientists create the foundation of modern health care. Without Bio-medical Scientists, the diagnosis of disease, the evaluation of the effectiveness of treatment, and research into the causes and cures of disease, would not be possible.
Bio-medical Science is continually changing into a dynamic profession with long term career prospects including management, research and education. Bio-medical Scientists working for Medical Research Council in the UK carry out research in medical and biological sciences to help preserve, compact and control disease. (Institute of Biomedical Science).