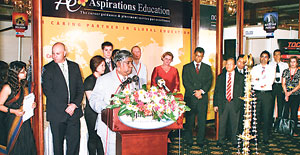 Mr. Ajith Abeysekara addressing the public during the opening ceremony.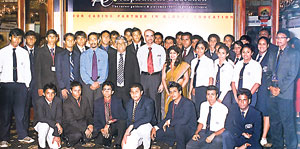 Volunteering team from Local and International Schools.
'Aspirations 2010 International Education Exhibition', the truly international education exhibition in Sri Lanka, with the participation of an overwhelming 3000 students and parents was a mega-success. 'Aspirations 2010' , this time under the overarching theme ' Learn Earn & Serve Our Nation- LESON' was held for the fourth consecutive year at Ceylon Continental Hotel, Colombo on July 3 and 4 and at Light House Hotel, Galle on July 6.
Students from diverse social, economic, educational, and geographical backgrounds lined up at over 40 stalls of highly reputed universities and institutions, to explore the variety of study opportunities available to them in Australia, Malaysia, Singapore, India, UK, New Zealand and USA to discuss their educational aspirations with the knowledgeable representatives of these renowned institutions. Students and parents in attendance were very pleased with this well organized exhibition and emphasized the value of an international exhibition of this magnitude where students can obtain information from the university representatives themselves without having to travel abroad.
Mr. Ajith Abeysekera, the Chairman of Aspirations Education, said that the analysis of the student's academic history and interests prior to applying to a university could make the difference between the student getting accepted or rejected by a university.Such careful attention to detail is what makes Aspirations Education unique, both in its attitude and approach to career guidance. The meticulous attention given to each individual case is the secret of success which is seen by the record number of visa approvals it has obtained from the countries concerned, within a 5 year period.

Guest speakers at 'Aspirations 2010'
Mr. Ajith Abeysekera said that "at this crucial juncture in our country, providing genuine career guidance and counselling to students keeping their interests and aspirations at heart, is important in giving hope to a new generation through a sound education and no amount of hard work such as organizing 'Aspirations 2010' would be superfluous in carrying this out. It is, in fact, the only way to chart a new beginning for Sri Lanka".
'Aspirations 2010' - for the first time in Galle!
It is the first time that Galle witnessed an education exhibition of this scale and feel. The South is renowned for producing intellectuals of the highest calibre and has always produced excellent results in the Sri Lankan O/L and A/L examinations.
However, many students and parents are not well informed of opportunities available to them in the case of not meeting the entry requirements of the local universities mainly due to lack of placement capacity. It is in this light that Aspirations Education decided to take the second leg of the International Education Exhibition to Galle. At the exhibition, they realized that students who can afford to look for higher education options in universities and institutes abroad, unfortunately, are greatly hampered or misinformed due to lack of proper channels to disseminate relevant and accurate information.
Aspirations Education is extremely pleased with the turnout from the South for the exhibition and the feedback they received from parents and students thanking them for bringing the exhibition to Galle.
'Aspirations 2010' - Learn, Earn & Serve Our Nation- "LESON" Lecture series on Study and Career Opportunities by renowned personalities who have served Sri Lanka.
Students were grateful to Aspirations for pioneering this lecture series and voiced that they benefited from it because choosing a career is one of the most difficult and stressful decisions they have to make in life, a decision with consequences that will impact the rest of their lives, a decision that must be carefully analyzed, and not something they should make in a hurry without proper guidance.
The vibrant and enthusiastic group of students participated in the stirring and inspiring lectures by the role models and gurus in the field- Prof Rajiva Wijesinha, Member of Parliament,Jackson Anthony, Senior Artist, Mr. Hiran Cooray, Chairman- Jetwing, Mr. Mohamed Adamaly, Director, Synergy School of Marketing , Prof Ananda Jayawardane, Former Dean of the Faculty of Engineering, University of Moratuwa, Mr. Chandra Embuldeniya, Vice Chancellor, Uva Wellasa University, Mr. Palitha Fernando, Additional Solicitor General, on fields of Law, Engineering, Business, Arts, Hospitality, Political Science and many more.
Learn Earn and Serve Our Nation- LESON- " Aspirations 2010"-International Education Exhibition extends a special thank you to all the Universities , Institutions that participated, students and parents , eminent guest lecturers and last but not least the very energetic school volunteers, who made the event an absolute success.