The Dambatenne tea estate, of the Agarapatana Plantations, is collaborating with the National Housing Development Authority for concessionary housing loans to estate workers. This is part of the estates overall welfare strategy to improve living conditions of the estate community, the Planters' Association (PA) of Ceylon said in a statement.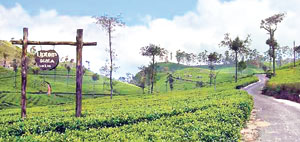 Dambatenne tea estate
"In an expanding initiative, 120 houses have been constructed under the scheme, as of now. Notably, 50 more abodes are under way. Additionally re-roofing has been implemented by the estate management and the Plantation Development Project, on 110 houses with a planned roll out of 60 more by the year end," it said.
The Dambatenne estate extends to 2,500 acres and has a resident population of 4,600. "Despite only 1,300 of them being workers, it remains evident that the estate is systematically improving in conditions, while meeting the challenges of providing housing, education, health and childcare etc for its entire resident population," said the statement. Attention is on house modification and information accessibility plays a key role in the development process, with worker empowerment given priority. In addition, an ongoing reconstruction and development scheme has benefited the estate roads, school, hospital and other infrastructure.
The Dambatenne Tamil Maha Vidyalaya, which is the main educational centre on the estate, produced the best O/L results last year, in the region. Meanwhile, the estate hospital is equipped with essential medical facilities, child vaccinations and an ambulance.

The Thalaivar (leader) of the Lanka Jathika Workers Union, R. Mohan, works as a supervisor in the factory. Starting out as a labourer, Mohan has risen to a factory supervisor because of his education and leadership skills. Representing one of 16 unions, Mohan was concerned about getting consensus from all unions on any decision regarding development. "
There are too many unions" he lamented all of whom do not look into the welfare of the worker but their individual political gain". The Dambatenne tea factory, built in 1890 with a length of 345 feet, claims to be the longest tea factory in Sri Lanka. The factory produces some of the country's finest black teas with most being small leafgrades.
The Unilever tea division, buyer for the Lipton brand, purchases nearly 45% of all teas produced at Dambatenne. Dambatenne estate sells its single origin teas under the 'Bandara Eliya' mark which draws connoisseurs from Japan, who make an annual trek to the estate for purchasing, as well as experiencing the ambience of the unique location of the estate.