Hewa Komanage Dharmadasa or H. K. Dharmadasa or better known across the island as 'Nawaloka Mudalali' celebrated his 90th birthday on June 17 and described how he left home at the age of 13 years with only 75 cents in his pocket and today is at the top of the business world in Sri Lanka – in a typical rags-to-riches story.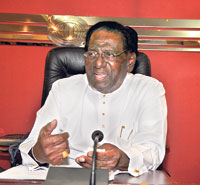 H. K. Dharmadasa
Though he could not be called a man of all seasons or a man of letters, he could well be called a 'man of many trades'. With humble beginnings Nawaloka Mudalai has done wonders in business. He did not have a 'magic wand' to do wonders, but equipped with only hard work, courage, talent and determination to trudge through an enormously difficult terrain.
Mr Dharmadasa didn't have any formal education, any professional qualifications and neither did he master the English Language. But that hasn't stopped him from reaching the top and has the competence of an accountant, engineer and administrator - all rolled into one.
At a press briefing this week at the Nawaloka office in Peliyagoda to announce the programme for Nawaloka Mudalali's 90th birthday celebrations, Mr Dharmadasa said, "My best achievement in my life is the venture I began 25 years ago to save lives, establishing the fully-fledged 'Nawaloka Hospital' the first private hospital of that magnitude in Sri Lanka". He said that he is elated to note that out of 100 patients admitted, 99 or the entire 100 go back home with better health.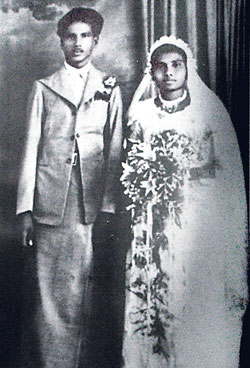 H.K Dharmadasa on his wedding day
He said that until that time everyone - rich and poor -- got the services of the National Hospital and they were overcrowded to the extent that there were patients on the beds and under the beds. He said "I am a very happy man as I was able to attract most of the patients on the beds so that many of those under the beds were able to be on the beds."
Born and bred in Sulthanagoda, Matara, Mr Dharmadasa's family consisted of mother and father, him and his sister. At the age of 13 years, when his father died, he decided to leave home to the metropolis and when he reached Colombo he was left with only 75 cents. Luckily he knew some businessmen in Colombo who came from Matara.
Working for one of them, he sold groceries for two years and then went to Sandalankawa to join Manamperi Mudalali. Two years later he came back to Colombo to work for Piyadasa Mudalali – all the time working hard before deciding to set up on his own.
Mr Dharmadasa began transporting goods that were brought to Colombo to various companies in bullock-carts. All this time he stayed at Peliyagoda and then married Milinnona with the couple being blessed with six children - Malani, Rukmani, Pushpa, Priyani, Jayantha and Upali.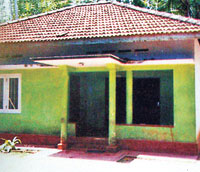 Dharmadasa's home where he was born
He also undertook contracts, timber merchandise and though he was successful in all his ventures so far, his turning point came when he was entrusted with running his aunt's hotel in Peliyagoda. It was first named as 'Gaalu Hotalaya', but subsequently the name was changed to 'Nawaloka Hotalaya'.
The Nawaloka conglomerate has 16 companies with businesses in hotels, timber trade, construction, industries, piling, polythene manufacturing, housing and hospitals. The newest venture in the Nawaloka Group is aviation.
The Nawaloka hospital also celebrates its silver jubilee. It was started with 100 rooms and now has 400 rooms and is serviced by the best-known specialists in the country. To coincide with Nawaloka Mudalali's 90th birthday, Nawaloka hospital would be further modernized with 14 operation theatres and ultramodern medical equipment of which some of them would not be available elsewhere in Sri Lanka, at a cost of around Rs 2 billion.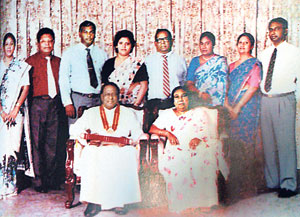 With the family
The company is also marking the birthday celebration by offering free heart surgery to 10 small children. Mr Dharmadasa said that though these children are listed in government hospitals to be operated, by the scheduled dates (of their operation) is finlised, most probably, they would be fatally ill.
His hard work and achievements have been recorded in a book titled 'Son of the Soil' which would also be released at the birthday celebrations.