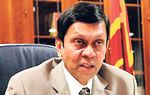 Ajith Nivard Cabraal
Sri Lankan Central Bank Governor Ajith Nivard Cabraal on Thursday was re-appointed for a 6-year term of office beginning July 1, 2010.
Mr Cabraal said that he has served as governor for the past four years, completing (next month) the 6-year term initially held by Sunil Mendis, the former Hayleys chairman. Mr Mendis served two years and then quit soon after the UPFA clinched power.