Despite the reported consequences of Sri Lanka losing GSP+ concessions, the main FTZ Katunayake Bus Terminal has become a virtual recruitment centre where teams of officials from the FTZ Katunayake (KFTZ) garment factories are luring girls mostly who are already employed in the same zone, convincing them to join their factories indicating that there would be additional facilities.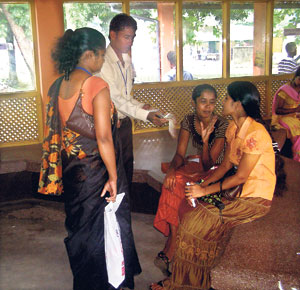 Factories closing? Think again
This appears to be one of the worst trade practices, to lure workers from other factories, but the factory owners are confronted with the problem of meeting their export targets in time and due to this unethical trade practice, a floating work force is created where a certain percentage of workers move from one factory to another creating a general worker instability in some of the factories.
Every morning there are around 80 such officials – mostly from the human resource department - from various factories operating in the KFTZ Bus Stand dealing with the recruitment operation and they start as early as 6.30 in the morning up till about 7.30 to 8 am. Some of these officials indicated that everyday around 40 to 50 girls move from one factory to another.
The earlier practice of recruiting from MPs' lists was found to be impractical and unsuccessful and thus the factory owners have resorted to the present mobile recruitment as it provides immediate recruitment, picking up experienced hands and eliminating the time consuming hassle of adverting at a high cost.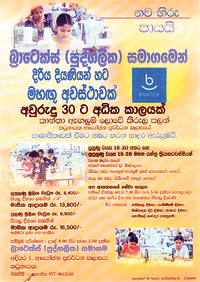 The practice of registering in the BOI Job bank is also done away with. Though a Job Bank of the BOI has been established at the KFTZ Bus Stand with two officials present, it has become redundant as recruitments are all done outside and the moment these'approached' girls are convinced to change jobs they are transported to the new workplace almost immediately.
According to Wilbert Perera, Deputy General Secretary, National Federation of Trade Unions, a trade union operating in the KFTZ, there are around 15,000 vacancies at the KFTZ alone. He said that though several factories were closed, they were subsequently taken over by new investors.
Some of the girls who are working in garment factories for a long time, when contacted by the Business Times said that most of these workers are depressed due to several negative reasons and said that they are being neglected – the most important being their security.
As these girls are in service, they insisted that their identity should not be revealed and said that some of these girls have horrendous experiences such as gang raping, molestation and intimidation. In fact they indicated that they are called 'Garment kallee(prnounced 'cay..ler' or sometimes 'Garment Badu' and public perception is very low for them. One of the girls said that these negative incidents spread in the remote villages like wildfire and those prospective females are mortally scared to take up work in Katunayake.
She said that another negative factor is that the remuneration now received is disproportionate to the high cost of living and average monthly remuneration being around Rs 15,000 and when they spend for boarding fees, food and some cases transport, they will not be able to save anything. But, after these garment factories were established in the far away provinces, working in places closer to their homes would reduce most of the problems encountered in the urban factories, specially the safety and morality of these young girls.
Further the KFTZ Bus Stand is a hellhole where around 50,000 would transit everyday. There are around three toilets and no drinking water available, and no transport after 7 pm. It has become a perverts paradise, specially in the evenings.