Exponential profit growth achieved in 2009-10 through internal change management initiatives at CEAT Sri Lanka has won the India-Sri Lanka joint venture tyre manufacturer the approbation of its parent company, the RPG Group, one of India's largest industrial conglomerates.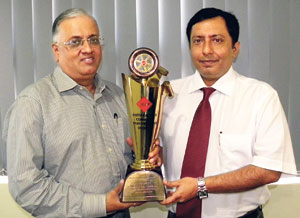 Picture shows Paras K. Chowdhary (left) and Randeep Narang with the trophy presented by R P G Group to CEAT Sri Lanka.
The company said in a statement it increased its profit after tax by more than five times to Rs 532 million, up 419 % in the year ending 31st March 2010. CEAT Sri Lanka also achieved a 25 % increase in sales to Rs 5.4 billion by penetrating new export markets in a period where revenue from domestic sales grew by 10 %.
Export sales grew by 96 % over the previous year. One of the noteworthy achievements of 2009-10 was CEAT Sri Lanka's success in capturing new export markets and the development of new private brand customers, the company said. This success has been carried into the current financial year, during which CEAT tyres made in Sri Lanka have penetrated markets like Egypt, Syria, Cambodia, Nigeria, Singapore, Dubai and Vietnam.
"It was truly a team effort that encompassed every aspect of our operation, and demanded enhanced efficiencies from all departments," the company's Managing Director Randeep Narang said.
"This achievement of a five-fold growth in the bottom line at a time when the market did not grow, is entirely attributable to change management initiatives. The external environment did not contribute."
In acknowledgement of CEAT Sri Lanka's success, the Managing Director of CEAT Ltd., India Paras K. Chowdhary, President Tyre Sector – RPG Enterprises, who was in Sri Lanka this week presented the company with a special trophy of appreciation.