Ahead of his first post-war visit to New Delhi on June 8, Sri Lankan President Mahinda Rajapaksa is likely to address a forum of Indian and Sri Lankan business enterprises in Colombo this week. The forum is part of the annual Indian International Film Acdemy (IIFA) festival to be held here on June 4 amid continued suspense over its brand ambassador Amitabh Bachchan's participation, following protests by Tamil groups in Mumbai last month.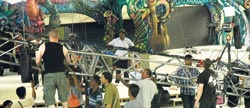 Setting of lighting by German engineers. Pic. by Saman Kariyawasam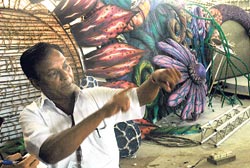 Lal Bahadur in charge of creation of the sets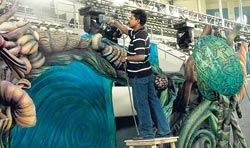 Indian technicians at work
The Federation of Indian Chambers of Commerce and Industry (FICCI), an eminent organization of businesses in India, usually holds the business forum meetings in the sidelines of IIFA each year. According to the FICCI programme schedule, Mr Bachchan and India's Information and Broadcasting Minister Ambika Soni are expected to attend the business forum.
Sri Lankan Ministers of Economic Development and External Affairs Basil Rajapaksa and G L Pieris respectively, are likely to participate in discussions on the FICCI-IIFA platform where this country's Board of Investment (BoI) would be scouting for Indian investors in areas such as tourism and real estate. Issues related to rebuilding the island's north and east are also expected to be discussed in a special session, chaired by Basil Rajapaksa.
President Rajapaksa's son and new Hambantota MP Namal Rajapaksa and his colleague in Parliament, cricketer from Matara, Sanath Jayasuriya are likely to take part in a separate session called 'cricket and entertainment' at the FICCI-IIFA event. The sub-continent's most popular sport – cricket – will also be played at the city's Sinhalese Sports Club for the purpose of charity. The game open to the public with tickets priced between Rs 1,000 and Rs 7,500 would see Bollywood stars competing against the Sri Lankan cricket team led by Kumar Sangakkara.
The proceeds, according to IIFA organizers would go towards helping children affected by the war. A few days ago, Indian actor Salman Khan announced in India that IIFA would be donating 100,000 US dollars to build 100 homes in Jaffna.
In IIFA's decade-long history, it is the first time that the choice of a host country for the Bollywood glamour event, has sparked controversy. Being held in the aftermath of war that left 300,000 people unsettled and questions over human rights violations unanswered, IIFA 2010 will be the Sri Lankan government's first big image re-building exercise.
The gliteratti of Bollywood stars dominate paradise isle
The count down has begun. With merely one week left for the gala International Indian Film Academy (IIFA) ceremony, which will have Bollywood stars pouring down into Colombo, preparations are at full swing at the Sugathadasa stadium.
The stadium is witnessing a bizarre sight with Sri Lankans, Indians and Germans working hand in hand to create a fairy tale setting for stars to sizzle up their magic. Some of them are those who have already worked with IIFA in making sets at Macau, where the event was held last year. Creation, designing and the decoration of the stage is done by Indians. One of the coordinators from India, Lal Bahadur, who is responsible for the creation of the sets, enthusiastically says, "I also worked at the sets of IIFA in Macau. There are about 30 men here from India creating the sets."
Event organizers take the same team along for building the sets in different countries, where the IIFA events are held. "There are many involved in creating and decorating stages of IIFA ceremonies. We tend to take the same people as there is more cooperation among them. That is necessary to accomplish the task." Among the crew, there are also a few working with IIFA for the first time and just like us, are excited about the event and eagerly waiting to get a glimpse of some of the Hindi movie stars for real.
On the other hand, a group of Germans, responsible for arranging lights at the event, hadn't watched any Hindi movies before. One of them, Mathias Wilke, earnestly says, "We intend to watch some movies from next week, once the show finishes. We are now genuinely interested in this field. Anyway, we would see the stars at the event." They sure can watch the function for free, but for the public, tickets with prices ranging from $500 to $1000 are available. Twenty special VVIP tickets each worth of $10,000 are up on sale, of which seven have already been sold out.
Deputy Minister for Economic Development, Lakshman Yapa Abeywardena who was on a visit to the stadium reveals that tight security would be arranged for the visitors but special care would also be taken to ensure that the natives are not disturbed. Roads leading to the stadium will also undergo beautification. The decoration of the roads would commence on May 29.
Meanwhile, discussions at kitchen tables, office canteens and grocery stores now centered on Bollywood stars and about who would turn up for the event. But, this is too early to say as the list of the attendees is not released yet. Only time would answer this question of the fans about who would land in our paradise isle.