Damaged electrical appliances and furniture, torn books and documents, were some of the scenes of destruction that greeted those who returned to their homes, following the torrential rains and subsequent floods that wreaked havoc.
Gampaha, one of the worst affected districts, saw some houses being inundated in more than six feet of water. Among the flood-affected people the worst hit were those who did not expect their areas to go under water going by past experiences. However, as the inclement weather continued unabated they found to their horror that their houses too were getting flooded and they had to abandon them and seek safer ground with whatever they could collect, in a short space of time.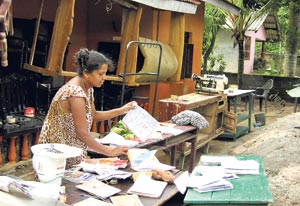 Priyanka Nayana Kumari trying to salvage what remains of her daughter's school books.
As the Sunday Times re-visited some of the flood hit areas in Ekala this week, many shared their stories of losses and the failure of any government authority to look into any form of compensation.
Thirty- seven year old K.Damayanthi Balasuriya, whose husband works in Italy said last time when floods hit her area, she had two feet of water in the house but she and her family did not find it necessary to move out. However, this time the house had six feet of water for five days.
"We did not expect the flood situation would be that bad initially and thought we could stay. But we suddenly realized that the water level was rising drastically," she said.
"We closed up the house and found safety at a nearby temple. When we returned home we saw that the doors had given-way due to the pressure of the water and the water had seeped into electrical items including the TV, refrigerator, washing machine, pedestal fans and the furniture was destroyed," she lamented.
Pointing out the mark left on the wall by the rising waters, she said, mattresses and clothes had also been ruined. She said most of the electrical items were dumped on the roadside as they were beyond repairs.
Priyanka Nayana Kumari, 39, a mother of a school-going child told the Sunday Times that her child's schoolbooks and uniforms had been ruined. "Even the well cannot be used as it is polluted and the motor has burnt down," Kumari said,
"The plug points too have been damaged and electricity board officials who visited the area said we have to clean up the plug points before power is restored," she added.
The flood waters were receding slowly in some areas, with pools of water still remaining. Residents are concerned about the stagnated water as there was the threat of mosquito- borne diseases spreading.
S.P.Geethanjali, who manages a retail grocery shop said they had stored the shop items at a higher level and left the area hoping that the water level would not rise that high. But when they returned they found that most of the items had been washed away or had been ruined.
She said their stocks of rice, sugar and grocery items were soaked in water. "The deep freezer too was damaged while all the items in the freezer especially the meats were spoilt as the power supply had gone off. Now we are concerned about the spread of diseases, especially dengue," a worried Geethanjali said.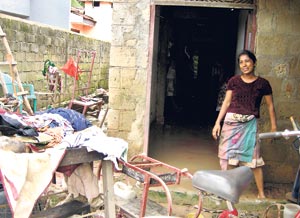 Damayanthi looks in despair at household items that were runied when her house filled up with six feet of water
She charged although there were promises of assistance and flood relief, all they got were a few bottles of drinking water. She said there didn't appear to be any plans for compensation. In some of the houses we visited, valuable furniture had been damaged beyond repair.
D.A. Ajantha, 48, another resident of Ekala told the Sunday Times they had bought a new sofa just a week before the floods and the polythene packing was still on when the deluge hit them. The computer including the monitor used by this household of five had been dumped outside as the machine was beyond use after it had been inundated in water for four days.
In some of the areas drinking water was still a problem as most of the wells had not been cleaned up yet. "Many of the toilets have over flowed and the wells need to be cleaned up before we use them. We can't clean them because the pumps are burnt," M.A. Mohammed said.
For some their livelihoods too have been affected. D.G.Leela, 53, who earned an income by selling plants has no livelihood at the moment, with it being literally washed away.
"We used to plant in the nurseries here and sell them. When the floods hit us suddenly, I didn't have time to remove the plants and when we returned they had been washed away or damaged," she said.
"We hope the government would pay compensation as it is not our fault the floods affected us. It appears that unauthorized land filling caused the flooding in this area," this irate Ekala resident said.
As these people still await some kind of compensation from the government they say they are however skeptical as other than the cooked meals that were provided to them, little has been done to look into their problems.