A photographer and a businessman both learned the hard way that 'all that glitters is not gold', when they were allegedly hoodwinked by an ex-Buddhist monk and on top of it were arrested by the Wellawatte police.
According to police, the photographer who had plans to migrate to Britain with his mother had come into contact with the ex-monk and befriended him at a temple in Dehiwala, to which he went regularly.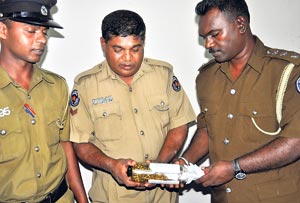 Wellawatte OIC (left ) with the fake gold
The suspect had told the photographer that he had found 1,500 small cubes of gold from an ancient site in Horowpatana and that he was looking for a buyer.
The photographer had contacted a jewellery shop owner who had checked some of the cubes that the ex-monk had showed them and vouched that they were gold. The ex-monk had reportedly told the photographer to pay him an advance of Rs. 600,000 but to take away the whole lot of gold as he had a problem of safe-keeping and that he would collect the rest of the money at a later date.
Around midnight on Wednesday, the photographer and the businessman had hired a three-wheeler from the Colombo Fort area for their return trip after the transaction, little knowing that their new-found fortune would soon become their greatest misfortune. A bystander in Fort had also asked for a ride towards Dehiwela and they had readily obliged.
While they were travelling on the Marine Drive they were stopped at the checkpoint in Wellawatte. Police had become a little suspicious because two of them did not have proper identification on them and they couldn't explain their movements at that time of the night.
A search soon followed and the police found the so-called treasure and all four including the driver and the man who asked for a ride were arrested.
Police have now found that of the 1,500 cubes of gold only 20 were genuine while the others were gold-plated. They are now on the hunt for the ex-Buddhist monk.
Investigations are being headed by Wellawatte Chief Inspector Samarakoon Banda.