New shops have been given to more than 300 pavement hawkers who were evicted from the pavements in Colombo Fort and Pettah earlier this month.
The shops located down Bodhiraja Mawatha in Pettah were handed over by Economic Development Minister Basil Rajapaksa.
Mr.Rajapasksa said that the former pavement hawkers have better facilities in their new places.
He added that such programmes would be implemented in other parts of the country to give the pavement hawkers better shops and also clear the pavements of them as well. Another 1000 shops will be handed over soon, he added.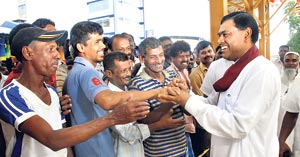 Minister Basil Rajapaksa last morning greeting evicted pavement hawkers who will be allocated stalls at Bodiraja Mawatha in Pettah. Pic by Sanka Vidanagama