Sri Lanka's chief meteorologist is advising authorities to be prepared to face more natural disasters which are worse than the recent floods. Meteorology Department Director General G. B. Samarasinghe in an interview with the Sunday Times says tropical countries are becoming more and more vulnerable to weather-related natural disasters because of the climate change.
He urges greater coordination between ministries, local councils, aid agencies and community groups to meet any emergency situation and measures aimed at minimizing loss of lives.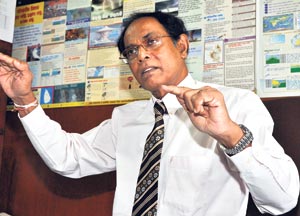 Meteorology Department Director General G. B. Samarasinghe
Apart from greater coordination among them, ministries in charge of subjects such as health and disaster management and statutory bodies such as the Ceylon Electricity Board should have rapid deployment teams to act immediately ahead of a disaster situation, the Met Chief says.
"With an alarming increase in natural disasters throughout the world, all attempts should be made to minimise the loss of human lives and damage to economy. These measures should include early warning systems and training on first aid, rescue and rapid evacuation," he says.
Investing in disaster preparedness is more advisable than spending on emergency relief, Dr. Samarasinghe reasons.
"There should be infrastructure facilities. For instance, we must build cyclone-resistant buildings where evacuated people can be temporarily sheltered before a cyclone hits an area or torrential rains bring devastating floods and cause landslides," the Met Chief says recommending that authorities should conduct risk assessments and identify risk areas as an urgent measure before the next disaster strikes.
Another area the authorities should focus their attention on, Dr. Samarasinghe says, is disaster prevention.
"Building of proper drainage systems, regular maintenance of drains and storm-water canals, creating public awareness on proper garbage disposal, expanding water retention areas in cities and towns and prohibiting construction in low-lying lands, especially near river banks, are some of the measures that can prevent floods," he says.
Another measure the authorities could take is to encourage people living in flood-risk areas and areas vulnerable to sea erosion to move out, by offering them alternate places to reside, says Mr.. Samarasinghe.
Citing a report released by the Global Humanitarian Forum (GHF) last year, the Met Department Director General says climate change kills about 315,000 people a year through hunger, sickness and weather disasters and the annual death toll is expected to rise to half a million in 20 years.
According to the GHF report, climate change seriously affects 325 million people a year and more than 660 million people would be affected in twenty years.
He says the report notes that the economic loss due to global warming amounts to more than $125 billion a year -- more than the flow of aid from rich nations to poor nations -- and this figure is expected to reach $340 billion a year by 2030.
"Ninety percent of the disasters are hydro-meteorological disasters that involve water. Most of the victims throughout the world are affected by flash floods, cyclones, droughts, heat waves, bushfires and tsunamis. Therefore, there is a need to be prepared for such hydro-meteorological disasters," Dr. Samarasinghe says, citing another world disaster report prepared by the Red Cross
"According to this report, from 1998 to 2007, hydro-meteorological disasters accounted for 98 percent of the 2.82 billion people affected by disasters around the world, with floods affecting 45 percent and droughts 39 percent."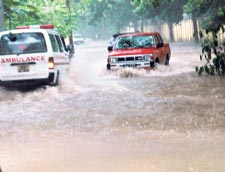 One of the many roads in Colombo that were affected in the recent floods
Dr. Samarasinghe says the planet's temperature is rising mainly due to man-made factors and this phenomenon will lead to weather hazards in the coming years.
Global temperatures have risen by about 0.75 degrees Celsius in the past 100 years, and according to the U.N. Intergovernmental Panel on Climate Change (IPCC) they are likely to increase by between 1.8 and 4 degrees before the end of the century, the Met Chief says pointing out that the emission of greenhouse gases such as carbon dioxide was the main cause for the global warming..
"Even the slightest change in the temperature has a greater affect on our lives. We see a reducing number of cold nights and an increasing number of hot days," he says.