Asian Development Bank (ADB) President Haruhiko Kuroda mingled with war-affected local communities this week and is learnt to have pledged more support to the development process during a meeting with President Mahinda Rajapaksa.
Official sources said he met local communities and chatted with war-affected residents of Mannar and Mullaitivu during a three-day visit to the country, his first to Sri Lanka. He was accompanied to the north on Thursday by Economic Development Minister Basil Rajapaksa, who is overseeing all northern and eastern development. Mr. Kuroda also visited the local ADB office and met staff.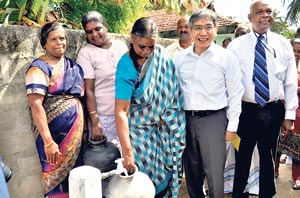 ADB president sharing a light moment with some women in Mannar
According to ADB Country Director Richard Vokes the agency has already approved or will approve between US$450 to US$500 million from 2009 to 2010 which includes a US$150 million emergency assistance loan for the reconstruction of urgently needed infrastructure and restoration of essential services in the war-affected regions. Dr. Vokes said around 60% of ADB support will go to the North and East. The ADB has approved over US$212 million in loans to Sri Lanka so far this year.
On Friday, before leaving Sri Lanka, the ADB chief told reporters that the Bank is supporting the Sri Lankan government's fiscal management reform programme and expects the Presidential Tax Commission to come up with realistic and ambitious recommendations for fiscal consolidation and deficit reduction necessary for economic growth.
He said he discussed with President Rajapaksa the Government's development plans including ongoing post-war reconstruction efforts and the continued support from the ADB.
Mr. Kuroda stressed the need for macro-economic stability as the basis for economic growth in the country. He described the current conditions as good although the fiscal deficit which reached almost 10% of GDP in 2009 is too large and must be reduced over the medium term.
Mr. Kuroda said he visited some ADB-supported projects and was impressed with the Government's efforts to develop infrastructure and improve people's lives. A case in point is the Dry Zone Urban Water and Sanitation Project in Mannar which when completed, will enable around 30,000 more residents in Sri Lanka's northwestern dry zone to gain access to clean water and sanitation. He also visited the Mannar General Hospital and Kilinochchi Hospital where the ADB is supporting reconstruction and upgrading of essential medical facilities.
"With the end of the conflict and ensuing peace, I am confident Sri Lankans can look forward to more promising and prosperous times ahead," Mr. Kuroda said.
He added that there are formidable challenges that need to be tackled. "A chief priority is to make economic growth more inclusive and equitable. For peace to be sustainable, the benefits of development must reach everyone." Another priority is to ensure rapid reconstruction and post-war development in the war-affected North and East. "This is crucial to rebuild livelihoods and revive hope among people whose lives have been disrupted by the war."