Unauthorised structures that pose a threat to environment prompted Deputy Environment Minister Faizer Mustapha to issue a directive for their removal when he visited the Akurana area in Kandy this week.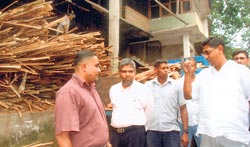 Faizer Mustapha visiting a saw mill
Some of these structures on the Akurana-Matale Road contributed to water pollution in the area, the minister said.
He said anyone who caused harm to the environment should be brought to justice. The minister told the area's divisional secretary that some saw mills caused health hazards and advised that they should be relocated.
He said environmental issues should be taken into consideration when permits were issued to set up saw mills.