The answer is in their hands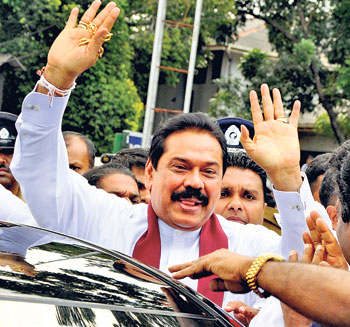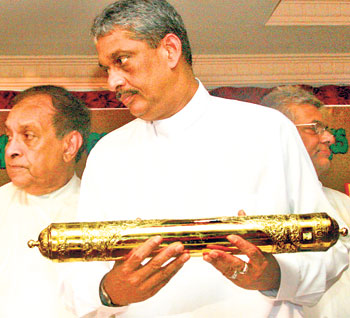 Launching their campaign rallies, President Mahinda Rajapaksa is seen waving to the crowds outside the Elections Secretariat at Rajagiriya with the Korean good-luck talisman he carried during his successful 2005 Presidential poll campaign tied to his right hand. In the photograph below the common opposition candidate Gen. Sarath Fonseka is seen taking a ten-point pledge to be presented to monks and other invitees at his Kandy meeting. Pix by Gemunu Wellage and J. Weerasekera
Spreading the word of Yoga

They're back. Sri Lanka's premier folk-fusion band, Alien Accent will be back on stage having been out of the music scene for almost four years. The band currently consisting of D. K. Wijesinha and Dillain Joseph, will be backed by some of the country's finest musicians who have come together to support a worthy cause

.
IMF says fiscal policy a major challenge

The International Monetary Fund (IMF) this week said it was happy with two components of Sri Lanka's economy – foreign reserves and monetary policy – but noted that the major challenge was fiscal policy and it was awaiting the December figures to check whether targets were met.
Climategate: Spin, scientists and scam at Copenhagen
Thousands of politicians, bureaucrats, and environmental activists have arrived in Copenhagen for the COP15 global climate summit with all the bravado - and self-regard - of a group of commandos who are convinced that they are about to save the world. And, although the political differences between them remain huge, delegates are nonetheless congratulating themselves for having the answers to global warming.
Education you receive today will help you tomorrow
Education is a very important factor for any human being. Therefore the education you receive today will help you tomorrow. Good education makes you a successful man and lead you to good path and make you an intellectual. You need determination, courage and dedication along with your luck to get a better education. You can make such a lucky situation by mere dedication. By the way let's take this example. We have heard, seen of some instances where students who studied less get excellent results at examinations than the students who studied very, very hard.
Kumar, step back and smell the roses!!
I always feel so indebted to those lyricists who have helped me more than once to get over my predicament of an opening line. Before I put my thoughts down in Toto, I wanted to make it very clear that these lines would be on the right track so with the help of that Glen Campbell Classic I say:
No vote still for 200,000 IDPs

Despite President Mahinda Rajapaksa calling for early Presidential Election saying he wanted a mandate from the people from the north, an estimated 200,000 displaced have not registered to vote or applied as displaced persons to vote for the January 26 polls.

Controversy over temporary IDs

The main opposition and the United People's Freedom Alliance are locked in a dispute over the fate of 1.9 million Sri Lankans who will require temporary identity cards to vote at the January 26 Presidential Election.
The need to debate issues
Another election has been called -- this time something unusual for this country - an early poll. It is a welcome change from the recent past when Governments and their leaders tinkered with the Constitution and some tried their version of New Maths to hang on to office.
Many facets of a development strategy


-The Economic Analysis

Economic growth and development cannot be achieved without conscious conceptualisation, policy formulation and effective implementation. There is a tendency to neglect these in the euphoria of the war victory and favourable developments in the foreign reserve position.
From the clutches of pirates to loving arms
Before the very eyes of the crew – seven Sri Lankans including the Captain and three Filipinos -- a fishing vessel called a dow that had been captured by the pirates lowered a skiff and slowly but surely began gaining on the Charelle while targeting it with automatic fire and rocket-propelled grenades (RPGs). During a pirate attack all crew members "muster" on the bridge. Even as the ship went into evasive manoeuvres, three RPGs whooshed overhead, missed the vessel and fell into the water. The manoeuvres slow the engine and drop the speed and Anton and the Electrical Engineer were making their way down to the engine room when the fourth RPG hit.
Climate change and Kids at Copenhagen
Hi kids, have you heard that our climate is changing..? Yes, it is going to be a very big problem in the future affecting all of us… When it rains in future, it will rain heavily with big thunders, scaring us all... and the times without rain will get lengthier, making all our friendly animals thirsty.
MBSL Insurance moves towards better horizons

MBSL Insurance Co. Ltd. which was previously known as ABC Insurance was taken over by the MBSL in May this year as a precautionary measure to save the Insurance Industry, which at that time was experiencing very challenging and turbulent times.
Fixing heart holes
Those days it was a major operation – open heart surgery lasting about three hours to close those holes that some are born with, followed by many days in the Intensive Care Unit (ICU) and a long scar on the chest forever.
MOST VIEWED ARTICLES

LATEST NEWS