Chandran Rutnam, the producer and director of 'Alimankada' (The Road from Elephant Pass) which is currently running at the Regal Cinema and the other CEL circuit throughout the country attended the gala dinner recently held in America honouring the renowned Hollywood director, Steven Spielberg, with America's Democratic Legacy Award, presented by the Anti-Defamation League.
Chandran was one of many invited guests at this important star-studded ceremony held at the Beverly Hilton Hotel in Beverly Hills, California recently. Chandran's friendship with Steven Spielberg goes back twenty-five years when "Indiana Jones and the Temple of Doom" was filmed in Sri Lanka.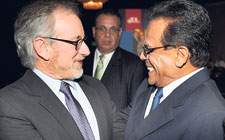 Chandran Rutnam and Spielberg at the ceremony in California
Spielberg who also has described Chandran as "Our Most Valued Friend in the Far East" has requested a personal viewing of Chandran's new film is to make a private visit to Sri Lanka next month as Chandran's guest.
Over dinner, Richard Dreyfess, Drew Barrymore, Noa Dori, Kirk Douglas and Sid Sheinberg had taken turns at the podium to praise Spielberg for his work as a filmmaker and humanitarian. "You have guided all of us in showing what kind of people we should be in the world through your filmmaking," said Drew Barrymore, who starred in Spielberg's "E.T."
In his remarks, Spielberg reminded people to pay attention, which he said could be a difficult task, "in this new and wildly expanding digital universe," where multi-tasking is the rule. "We e-mail, we hyperlink, we blog, and yet, xenophobia exists; bigotry endures, racism endures, anti-semitism endures," he said. "They endure in societies and cultures all around the world, and have found a new frightening home in cyber-space."
Spielberg called bigotry an acquired condition that could be eradicated only through education, experience and, mindfulness, and accepted ADL's highest honour, "in mutual recognition of our ambitions to dedicate ourselves to the defence of human dignity, human rights and human life – all human life."
Former recipients of this award include Henry Kissinger, U.S. Presidents Ronald Reagan, John F. Kennedy and Lyndon B. Johnson. The organizers included Sid Sheinberg, former Chairman of Universal Studios, Harold Brown, Bruce Ramer, Jeffrey Katzenberg, Robert Sugarman,, Abraham Foxman and other industry giants.