The severe drought prevailing in the North Central and Eastern provinces has had a serious impact on the cultivation of rice and other field crops in these areas. During this year's Yala season, some 50 per cent of the farming area of the Minneriya, Giritale and Kaudulu Wewa colonies remained uncultivated.
"The usual rains of August and September failed to materialise, and this has severely affected rice cultivation," Polonnaruwa District additional district secretary N. G. Panditharathne told the Sunday Times. "But there's a chance that cultivation for the Maha season is possible, because of rains experienced this past week."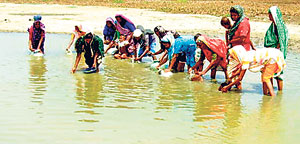 Villagers of Palliyagodella in Polonnaruwa trying to collect some water from a fast-drying -up tank. Pic by Gamini Obeysekera. Polonnaruwa
In Ampara, another area badly affected by the drought, farmers of maize, cowpea, green gram and similar crops have not been able to cultivate on time. The lack of rain has also delayed rice cultivation in such areas as Padiyathalawa and Lahugala.
To prevent anticipated rice shortages and price hikes, the government will be importing 50,000 metric tonnes of rice, Agriculture Development and Agrarian Services Minister Maitripala Sirisena told the Sunday Times.
In the Polonnaruwa district, the drought has affected more than 50,000 farmer families, while some families are facing difficulties finding water suitable to drink. The District Secretariat has ordered the supply of drinking water for all drought-affected areas.
In the Ampara area, 25,000 farmer families in 12 Divisional Secretariats are affected by the drought.
"We have requested the government to give food aid to these people because they have not been able to cultivate their lands," Ampara district secretary S. Kannangara told the Sunday Times.
"The state is working with the World Food Programme to give these farmers assistance. We have so far spent some Rs. 5 million on drinking water for the population in all the drought-stricken areas," Mr. Kannangara said.
Meanwhile, the government has appointed a four-member Parliament Sub-committee to facilitate the drought-relief programmes initiated by various ministries.