Chief of Defence Staff General Sarath Fonseka, now on a private visit to the United States, has been told to face a "voluntary meeting" with the Department of Homeland Security, prompting fears in Colombo that Washington is asserting its legal authority over the "war crimes" report released last week.
Reports reaching the highest levels of the Government say US Department of Homeland Security officials want to interview him on Wednesday (November 4) in Tulsa, Oklahoma. Gen. Fonseka, who is a US Green Card holder, has a residence in Oklahoma. His visit is in connection with renewing his Green Card which affords him residency in the US. This is a prelude to US citizenship.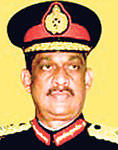 Gen. Fonseka
He had already sought legal advice from Fred Fielding, a former White House Counsel to late Presidents Richard Nixon, Ronald Reagan and former President George W. Bush. His lawyer had advised that the CDS should face the meeting and answer all questions truthfully.
Thereafter, according to highly-placed Government sources in Colombo, Sri Lanka's Ambassador who learnt of the US move, mobilized lawyers from Patton Boggs, the law firm hired by the mission for lobbying and promotional work, to fly to Tulsa. Gen. Fonseka has agreed to drop lawyer Fielding from representing him and to retain the services of Patton Boggs.
It is not immediately clear whether Patton Boggs lawyers would advise Gen. Fonseka to claim diplomatic immunity and turn down the interview request or ask him to respond to questions from officials of the Department of Homeland Security. In fact, the involvement of the firm itself has become a knotty legal issue after it has been pointed out that it also represents the Government of Sri Lanka. Since Gen. Fonseka is a Green Card holder, and thus a prospective US citizen, there were concerns whether representation by Patton Boggs would also become another issue.
Sri Lankas Ambassador in the US, Jaliya Wickremasuriya has written to Robert Blake, Assistant Secretary in the State Department about this matter, seeking his assistance to resolve any issues involved. Heightening concerns is the possible US response if Gen. Fonseka claims diplomatic immunity and is refused. That is on the grounds that a prospective US citizen, a Green Card holder, is not covered by diplomatic immunity.
In such an event, questions are being raised whether the Department of Homeland Security would resort to Court action in the US to hold him for investigation for alleged human rights violations. Both US citizens and those aspiring to be citizens are governed by US laws and reported violations make them answerable to law enforcement agencies in that country.
The 68-page report from the US Department of State to the Congress on October 22 contains details of alleged "atrocities" by both the military and Tiger guerrillas during the final stages of the separatist war in May, this year. The report contains a reference to Gen. Fonseka. It says, "A media outlet reported on July 18 that at a celebrity event in Ambalangoda, Army Chief General Sarath Fonseka stated that the military had to overlook the traditional rules of war and even kill LTTE rebels who came to surrender carrying white flags during the war against the LTTE."
General Fonseka and his wife Anoma left for US on October 23. Their visit was originally expected to be part official and part holiday. However, the official part of the visit which included an invitation to the US Pacific Command in Hawaii for farewell ceremonies to its commander Admiral Timothy J. Keating was later withdrawn. This was in the light of the release of the State Department report to the Congress. US authorities said it would not be tenable for Gen. Fonseka to be officially hosted at any event in the light of the report.
Last Monday, Gen. Fonseka and his wife took part in religious ceremonies at the Washington Buddhist Viharaya. A meeting that day with Robert Blake did not materialize reportedly on the grounds that the Assistant Secretary was ill. Later, Gen. Fonseka and his entourage flew to Oklahoma.