Senior DIG (Administration) Mahinda Balasuriya assumes duties as the 32nd Inspector General of Police (IGP) on Tuesday. His letter of appointment was expected last night, following President Mahinda Rajapaksa's return from a visit to Nepal.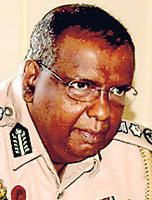 New IGP Balasuriya
Mr. Balasuriya joined the Police Department in 1978, and has held a number of key posts, including those of Senior DIG, Range I and Range III.
He also supervised police coverage of the North and East for three years, and was the Special Task Force (STF) Senior DIG in operations against the LTTE. In the past few months he has been closely involved in the resettlement of displaced persons in the North and East.
Mr. Balasuriya is an old boy of Ananda College, Colombo. He is presently studying for a PhD with the University of Peradeniya's Department of Political Science. His thesis relates to LTTE terrorism and national security in Sri Lanka
Mr. Balasuriya is waiting for his formal appointment before unveiling his plans to raise the profile of the Police Department, which has taken a battering in the past few months, the Sunday Times learns.