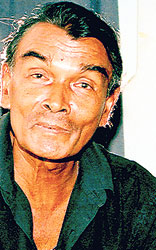 Dr. Gamini Haththotuwegama
Dr. Gamini Haththotuwegama, widely recognized as the father of street theatre in Sri Lanka, and versatile and indeed omnipresent personality in the arts, passed away on Friday after a long battle with cancer.
He was 73 years old. Dr. Haththotuwegama taught both in the formal academic institutions (University of Peradeniya and Kelaniya University) as well in informal settings through innumerable drama workshops.
The beneficiaries of his teaching largesse have gone on to become experts and stars in their own right, on stage and on screen. He is survived by his son Rajith and daughter Chamindu.
His mortal remains will be moved to the Kala Bhavana (Art Gallery) for the public to pay their last respects, from 10 a.m. onwards on November 1. The funeral will take place at 4.30 p.m. the same day at the General Cemetery, Borella.