The police constable who surrendered in connection with the assault and forced-drowning of a mentally unsound person in Bambalapitiya last Thursday, was remanded till November 13 by the Fort Magistrate Gihani Weerasinghe.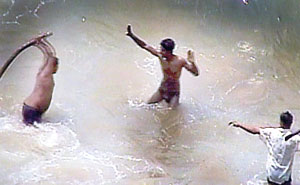 The horrifying video footage. Courtesy TNL
The Magistrate returned an open verdict on the death of Balawarnan Sivakumar (26) who was seen being beaten by two men in a dramatic video footage that shocked the country. The autopsy revealed the cause of death was by drowning.
Police spokesman Nimal Mediwaka said investigations were continuing to ascertain the identity of the others involved in the attack. The video tape is being scrutinized by investigators, he said.
Meanwhile, Colombo Bishop Rt. Rev. Duleep de Chickera urged the Police Chief and other relevant authorities to conduct an immediate and impartial probe into the incident and ensure that all those responsible were arrested and dealt with according to the law.
"Public confidence in our law enforcement authorities must be maintained under all circumstances; otherwise the country can quickly descend into a state of lawlessness," the Bishop said in a news release.