President Mahinda Rajapaksa indicated to his ministers on Wednesday that the presidential election will be held first but warned some of them to stop their clandestine relationships with opposition parties.
The remarks came in a highly emotion-charged speech he made when the weekly Cabinet meeting neared its end. He told ministers that last Sunday he had addressed some 4,000 Pradeshiya Sabha members. He had posed them a question – Do you want a presidential or parliamentary election first? He asked those in favour of the presidential election to raise their hands. Almost all of them had done so. When he asked who was in favour of the parliamentary elections, those present had hooted in unison. None appeared to raise their hand. That reflects the mood in the country, he said.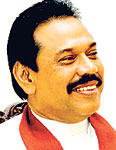 President Rajapaksa
The Sunday Times learns President Rajapaksa will make an official announcement on November 15 regarding the presidential poll. This is at the annual convention of the Sri Lanka Freedom Party at the Khettarama Stadium. President Rajapaksa completes four years in office on November 17 thus enabling him to constitutionally issue a proclamation anytime thereafter for polls.
Such a proclamation is likely on November 19. President Rajapaksa said he was aware that some of his ministers were in touch with United National Party (UNP) parliamentarians. However, he did not identify them. In one instance, a Colombo district MP had tape-recorded a conversation with a minister. Later, it had been played before Opposition UNP Leader Ranil Wickremesinghe. That was at the office of the Leader of the Opposition at Cambridge Terrace, he said. The minister concerned, the Sunday Times, learnt was someone who has been in the news this week over trade union disputes.
There was another instance where a UNP MP from the south whom he described as "Ey Yaka Lokayek" (something akin to "that devil is a crafty fellow) had taped conversations. "He rings me and gives me little bits of information about issues inside the party. In return, he asks me for favours. He does not talk in millions but in billions of rupees. I know him only too well. He is a shrewd fellow," he said. "I know it is on tape. Don't get caught to these traps," he warned the ministers. A minister who had spoken with this southern MP, among others, is said to be one dealing with the media.
President Rajapaksa said ministers should remember there was collective responsibility. Decisions taken by the Cabinet had to be defended by all ministers. "If you have any problems, come to me straight and speak with me frankly," he said. He warned, "Don't get caught to me by doing things behind my back. In as much as the opposition gets to know, I also get to know which minister is doing what. I also have my sources. They tell me. They also want to get things done," he said.
Choking with emotion, President Rajapaksa said, "I am a person who had come up the very hard way. I am not drunk with power. If there is anyone who feels he can lead, I am willing to go," he declared. However, he said he was deeply committed to the survival of the UPFA to serve the people of Sri Lanka.