When Ambassador Patricia A. Butenis steps out through a side door of Jefferson House, her official residence, she reinforces the media image of herself. Angular, straight-faced, a fleeting smile before the face sets again, neutrally; walking towards us is a diplomat who will clearly not mince her words, nor her intentions.
Then, she pulls the rug from under our feet and defies expectation by deviating from her character-typical script. "This is for you," she tells her Cultural Affairs Officer, waving a blister-packed tablet in the air. "In case you get motion sickness."
Looking at me she adds, "I got only one, but you must be used to these roads." It's a statement not a question and again that quick smile.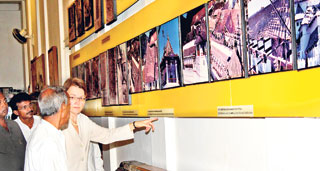 At the Maligawa Museum: Ambassador Butenis looks at a panel of photographs depicting the 1998 LTTE attack on the Temple of the Tooth
It is 6.45 in the morning and she is about to leave for Kandy on her first official visit there. Simmering in the background are the events of the previous night when the U.S. Dept of State had released to the U.S. Congress a report on alleged incidents that took place in Sri Lanka during the last phase of the war.
She asks a question about the response to the report in the newspapers and goes briskly through the list of people she will be meeting on tour.
"Give me the right details," she says. "I hate to say the wrong thing." It's a packed agenda of one meeting followed by another. The first is scheduled for 10.30, a talk at a seminar for ICT students, but when we get to Kandy with literally a 5-minute stop at Ambepussa, we are half an hour early. This gives her time to chat to A-Level students there.
She keeps up the same pace the rest of the afternoon. Lunch with the Mayor of Kandy is followed by the opening of a digital video conferencing facility at the American Corner in the Public Library, followed by a meeting with Government officials. By the time she checks into her hotel it is past five and she is hosting a group of University academics to dinner at seven.
All the academics are on time and the mood for a chatty evening has already been set when Butenis walks in. She adds to it, lets the wine flow liberally and, as the University dons question her, she talks.
The conversation moves from politics to food; from the lobbies influencing the U.S. Senate to Raj Rajaratnam; from Hillary Clinton to the Government victory over the LTTE; and from the local doctor who said exactly what he thought about Americans to Butenis as he treated her injured leg to driving in Sri Lanka.
The questions about the recently released report will not go away: "We were supposed to give the report to Congress sometime ago. It kept on getting delayed. Nothing to do with the GSP. But anyway nobody will believe me," she shrugs.
She continues later, "I can appreciate the Government's position. The LTTE used civilians and the Government had no-fire zones and there is the accusation that it fired into them. And there is the accusation that the LTTE fired out from those zones."
She describes how she spoke to senior army officers who say they had control throughout the war. One of the dons adds that they probably did, more than in earlier phases in the war. She says she had been told that this time the army may have been managed better.
The conversation shifts to Hilary Clinton's statement about the army using rape as a weapon of war. "She was given the wrong information. That's just what it was," says Butenis. Someone mentions the influence of the Tamil diaspora in the U.S. and when the conversation touches on Raj Rajaratnam's arrest, she says it was "unfortunate" for Sri Lanka as he was a member of the Tamil diaspora who was willing to work with the Government on reconciliation and reconstruction.
Butenis describes how they have been trying to encourage the diaspora to talk to the authorities in Sri Lanka and adds, "those meetings are painful." She continues, "You have to give the Sri Lankan Embassy credit. The diaspora and the Embassy in Washington have been talking. I think Jaliya Wickramasuriya is an excellent Ambassador, we have talked about this. We discussed the different pressures."
She then launches into a forthright account of how the system works: "We all have different pressures. Even in the State Department there are different opinions about policy towards Sri Lanka. Even within my own agency. Oh yes! Then you have the different lobbies. Then you have the U.S. Congress. So it is always a balancing act. You know, what are we saying? What are we doing? There are several constituencies in the U.S. influencing. One is the Tamil constituency. That is one. And then there are the other lobby groups. You know when I asked to be considered for this post there was the Senate hearing. The Senate staffers; they are the ones: the formulation committee.
They gave me a tough time. They wanted to make a point. But I have to say, we don't have much leverage, what do you think it is, apart from moral persuasion? We are providing humanitarian aid, but you don't want to cut that off. We are not the biggest aid donor. So where do you think we have this leverage? I think that is the frustration!"
The next day, when I ask her about her childhood she laughs and says, "I was not a war-monger!"
Butenis was born in the mid 1950s in New Jersey, U.S.A. to parents of Lithuanian and Ukrainian descent. Her parents had married late in life, in their thirties; late for that generation of Americans. They had three daughters. She says her father could have gone to college but he supported his widowed mother and remained a blue-collar worker. He had worked in a newspaper press handling the rolls of printing paper. Not surprisingly she remembers the sights and sounds; the large rolls of paper, the deafening clang of the machinery; many of her father's colleagues, she says, lost their hearing because of the printing presses.
Her father, she adds, worked triple shifts to earn money while her mother looked after their grandparents and ran the household. She and her sisters had grown up valuing education. Butenis says she learnt discipline from the nuns she studied under in school. She went on to ivy-league U.S. universities to study Anthropology and later International Relations, funding her education with loans, grants, scholarships and part-time work.
She admits that while her background doesn't change the way she socializes it gives her "a certain sympathy." High on her list of concerns is the role educational systems play in providing opportunities to disadvantaged students.
She is the first U.S. Ambassador in Sri Lanka to serve vegetarian food at her residence. Realising that she is an ardent animal lover, I ask why, expecting a long explanation about animal rights. Instead, while concern for animals does come in and is the reason she has remained a vegetarian, she says "it started off as a weight thing." However she says, "now" she doesn't "like the idea of eating flesh anymore."
One of Butenis' defining characteristics is her razor-edged candidness. She doesn't mince her words, and hers is not a diplomacy of saccharine smiles and suave dealings. "This," she says, "is not the time for diplomatic ambiguity."
She offers the same matter-of-fact face and clear-cut stance to Sri Lankans as well as her own community of resident Americans. Wryly describing the role she is expected to play as the host at social events she says that she will not put on a "funny hat" and "do something."
It is unlikely that we will see her in the fashion pages, photographed lounging on a terrace with a charming spouse. It is more likely that she will be found at a shelter for stray animals or strolling through the botanical gardens. Her genuine love for these showed clearly on her tour.
"One thing an ambassador never wants to be accused of," Butenis says, "is what they call Clientitis. That means you take the view of the country you are in. And you forget about the U.S. view and all of a sudden you are their ambassador. You are the Sri Lankan Ambassador. Oh yes, it happens. It is hard not to happen. You are in a country. I am new, I like to be liked. I come here at a time when there is tension in the relationship and I am required to deliver hard news. It's hard. I'd much rather give good news. But I can't. I try very hard to make sure that the people I talk to know exactly where I stand. I am very direct about that."
Butenis says that if there were a conflict between her personal values and U.S. policies she could resign without cost. Then she describes her tenure in El Salvador during the Reagan administration and in Iraq under the Bush administration. She says: "They were rather controversially supporting a Salvadoran Government which was described by the left-wing of the Democratic party as sending out death squads at night. So before I went there, that was an issue.
I have been a Democrat all my life. Now I have to tell you that at that time in my career if I had been in El Salvador and I felt that I had to go I could have always curtailed. It is not as if you necessarily have to resign. I didn't feel that I faced that dilemma. I supported our policy in El Salvador and you can look at it years later where it is a democratic country. Going to Iraq. I didn't have to go to Iraq. I, like most people accepted what most people were told was the intelligence. That we are invading Iraq, that the weapons of mass destruction were hidden somewhere. And that turned out not to be true. But I agreed to go because I was going not as a member of the military but as a member of the Embassy."
In addition to her visit to the Temple of the Tooth and lunch with the Bishop of Kandy, are her meetings with the Mahanayakes of the Asgiriya and Malwatte Chapters.
She asks for the Mahanayakes' blessings and advice. Her request is visibly sincere and there is a palpable shift of emotion in the presence of the frail, aged Mahanayake of the Asgiriya Chapter. Coming out of his reception room, after a blessing by him that had a strong, moving spiritual undertone, she says, "This is why I love being an Ambassador." She is quick to acknowledge, "Oh yes these positions may be political, but you always find they are truly spiritual."
It is the Mahanayake of the Malwatte Chapter who emphasizes to her to not listen to advice from different factions, to form an independent opinion, to act with understanding and to work with the Government. She describes to him how she travelled to the IDP camps with Government officials.
Later she acknowledges that "now, since it appears that the Government is accelerating the release of IDPs; it is excellent and encouraging news."
Going back again to the report she adds, "Congress has not said what we do with it. But naturally people would say what is the next step? Who is going to investigate? We continue to believe that it is the responsibility of the Sri Lankan Government to do the inquiry; to look internally and to find some kind of mechanisms for accountability."
And she emphasizes, "I do understand how people feel, how Sinhalese people feel. I understand that the army wants to be congratulated and instead the world community is focusing on all these other issues."
"But," she says, "the victory came at a price."
Ms. Jirasinghe works at the US-SL Fulbright Commission, a bi-national commission established (in 1952) and directed by the Government of the USA and by the Government of Sri Lanka.