At least 62 jailors attached to the Kalutara Prisons are to be produced in the Panadura Magistrate's court tomorrow after they launched a lightning trade union action on Friday which forced proceedings at the Court to be suspended.
The jailors were ordered to be arrested and produced in courts after they launched a strike to protest over the earlier arrest of three colleagues who were taken into custody following allegations that they were planning to assassinate a Magistrate, Prisons Commissioner Maj. Gen. (Retd.) Vajira Wijeygoonawardene told The Sunday Times.
Investigations have revealed that an inmate in the same jail is alleged to have planned to kill the Judge with the connivance of certain prison guards. The inmate and the guards are alleged to have exchanged over 250 telephone calls on their mobile phones, during which they had plotted the high-profile assassination.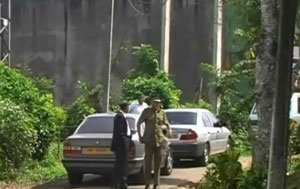 Prisons Chief Vajira Wijeygoonawardene (left) and a police officer assessing the fallout of the strike when they visited the Kalutara court complex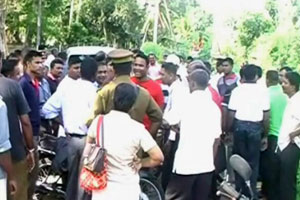 Scenes outside the Kalutara Prison after jail guards launched union action last Friday.