With chickenpox reaching epidemic proportions among displaced persons – men, women and children – in camps in Vavuniya, Health Secretary Dr. Athula Kahandaliyanage is giving assurances that all measures are being taken to check the spread of the disease and bring it under control.
"We are issuing anti-virals to prevent the disease from spreading," Dr. Kahandaliyanage said. "Some people tend to hide the fact that they have chickenpox. It is during the first few days that patients are at their most infectious. The disease spreads rapidly when others come in contact with an infected person."
Dr. Kahandaliyanage said a team of experts from the ministry's epidemiology unit and the Medical Research Institute have visited the area to assess the situation.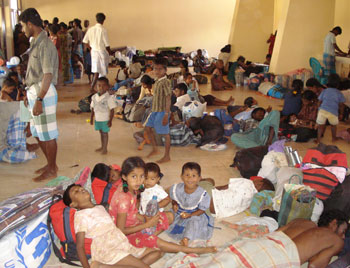 Displaced persons are vulnerable to diseases such as chickenpox
The Sunday Times understands that 2,000 or more internally displaced persons (IDPs) in Vavuniya have come down with chickenpox.
The doctor pointed out the limited effects of giving vaccinations at a late stage, when the virus is already widespread. He said some of the IDPs coming from uncleared areas were already infected with the disease.
The Puvirasakulam Hospital has only 16 beds, and there are more than 700 chickenpox patients. Even though the ministry had built two temporary wards to accommodate chickenpox patients, the hospital's resources are being stretched to the limit.
Dr. Kahandaliyanage said there was a "bell shape curve" in the development of any viral disease, and that once the outbreak reached its peak, there would be a decrease in the number patients.
Health Ministry officials were the first on the scene when IDPs began to surge into the area, he said, adding that he was the first ministry secretary to visit the area, as early as January 19. "We visited the camps, including Manik Farm, and the hospitals, such as Vavuniya and Chettikulam. We made sure the camps and hospitals were equipped to meet the emergency."
Asked about concerns that the authorities were distributing infant milk formulae rather than encouraging breastfeeding among mothers, Dr. Kahandaliyanage said a strict code of ethics was in place in regard to breastfeeding. He said the Family Health Bureau was handling that aspect, and added that he would look into the matter himself.