With the LTTE crumbling under military pressure the pro-rebel- Tamil National Alliance (TNA) suffered a major blow with one of its Members of Parliament deciding to back the United People's Freedom Alliance (UPFA).The move came amidst reports that more of the party members were being approached by the government.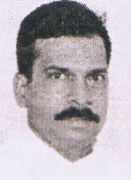 Noharathalingam
TNA parliamentarian S. Vino Noharathalingam said he had decided to back the government by reuniting the two factions of the Tamil Eelam Liberation Organisation (TELO), a constituent party of the TNA, after the MP had talks with Senior Presidential Advisor Basil Rajapaksa.
The MP was this week allowed to visit the Internally Displaced Persons (IDP) camps in Vavuniya, marking the first such visit by a TNA MP to the camp, while requests by TNA MPs including one from the group leader R. Sampanthan had been turned down. Mr. Noharathalingam on his return made a statement in parliament, praising the government's efforts in looking after the displaced people. The move surprised the TNA MPs. Senior TNA Parliamentarian Mavai Senathiraja was seen involved in a heated argument with the MP in a corridor of Parliament on Friday.
The Government yesterday at a hurriedly-organised news conference presided over by Media Minister Laskshman Yapa Abeywardena welcomed the TNA MP's speech saying it was proof of the genuine efforts being made by the government to look after the displaced people.
Mr. Noharathalingam told The Sunday Times that they have to support the government in its work.
However, he claimed he had not yet taken a decision about joining the UPFA.
In a related move Basil Rajapaksa this week had talks with another TNA MP and offered wide powers to oversee administrative and welfare work of the displaced people in Vavuniya. The MP told Mr. Rajapaksa that he would decide on the matter.
The Sunday Times learns that in a similar manner several other MPs of the party also have been approached by the government.
TELO member and parliamentarian K.Srikantha told The Sunday Times that if Mr. Noharathalingam went ahead with his plans, it would be a serious deviation from the party policies.