Sri Lanka is not on the itinerary of Navi Pillay, the United Nations High Commissioner for Human Rights, who is currently on an official visit to Nepal and India.Last week a row erupted between her office and the Sri Lanka government over a statement Ms. Pillay had released on the Sri Lanka conflict.
Rupert Colville, spokesman for the Office of the UN High Commissioner for Human Rights (OHCHR), said the High Commissioner's visit to Nepal was planned some time back. He said Nepal was one of the OHCHR's biggest country operations, and that the country was selected as one of Ms. Pillay's first overseas destinations.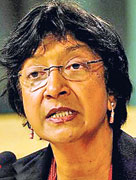 Navi Pillay
Mr. Colville said the one-day visit to India was included in the itinerary after Ms. Pillay was invited to give a lecture there. He denied that Ms. Pillay was avoiding Sri Lanka.
"She is not avoiding Sri Lanka. It is still very early in her tenure," Mr. Colville said, adding that he was not aware of any specific request to visit Sri Lanka."It is not necessarily normal practice for the High Commissioner for Human Rights to visit a country where a conflict is in full swing," he said, in response to an e-mail query about whether the High Commissioner had intended to visit Sri Lanka.
He said the OHCHR differed slightly from other organisations that had large humanitarian operations, such as the UNHCR, the WFP and UNICEF. "When they are involved in a major crisis, they will often try to visit fairly early on in the operation, because they have a multi-million dollar programme to manage and account for, and feel they need to get a feel of how it is working on the ground, meet their staff, etc. We don't have a multi-million dollar operation in Sri Lanka," Mr. Colville said.
Meanwhile, Sri Lanka will be forwarding a comprehensive statement this week in response to High Commissioner Pillay's March 13 report, which alleges serious violations of international human rights laws in the Sri Lanka conflict.
"The response, which is being finalised, will be sent within the week," Foreign Minister Rohitha Bogollagama said. The government is challenging the civilian casualty figures provided by Ms. Pillay, saying they were based on figures released by LTTE propagandists. Ms. Pillay's statement refers to a range of "credible sources" that suggest that more than 2,800 civilians may have been killed and more than 7,000 injured since January 20, and that many of the incidents took place inside no-fire zones.
The OHCHR spokesman said the organisation had noted the government's reaction but fully stood by the OHCHR statement made a week ago.