Despite sand mining posing environmental threats to the protected area of Anavilundawa in Chilaw and illicit sand mining in the area rising during recent months, wild life officials attempting to prevent illegal sand mining in the area were attacked by a local politician.
On Wednesday, wild life officials receiving information that a number of individuals were involved in unlawful sand mining set out to arrest the group.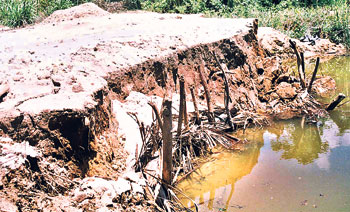 Erosion due to sand removal
However, when they reached the spot and attempted to arrest the illegal miners, they had faced resistance from none other than the chairman of the Arachchikattuwa Pradeshiya Sabha, Janath Samantha.
Unable to apprehend the culprits, the officers reported the matter to the Chilaw police. While returning to office at Arachchikattuwa, their motor bikes were stopped by the chairman of the Arachchikattuwa PS who assaulted them for making a complaint to the police.
The injured officials were later admitted to the Puttalam hospital. One of the injured officers, A.A.S. Bandara said, "When we were confronted by the offenders we called police emergency and asked for protection. The politico questioned our identity and challenged us saying we had no business to interfere in sand mining operations.
"We reported the matter of interference in our duties to the police and provided them with the licence of the lorry driver expecting action would be taken against them. Instead we had to face this situation" he said.
Themiya Ratnayake a wild life official who was an eye witness to the incident said that the politico was accompanied by around ten others and they had set about assaulting his men, even threatening to kill them.
Meanwhile the PS chairman said wild life officials had no business to interfere in sand mining operations.
He said their interference caused the wrath of his men. He claimed he had stopped the men from assaulting the department officials.