A heroic act of a nine-year-old student who saved the lives of three persons from drowning in the swirling waters of the Loggaloya, has turned to be the talking point in a little farming village in Mahiyangana.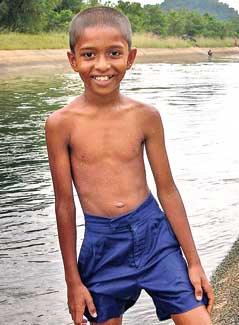 Sandakelum on the bank of the oya
Sandakelum Rajapakse, a Grade Four student of Gemunupura Madha Maha Vidyalaya was on his way on his bicycle for a bath after attending the Dahampasala (Sunday religious classes) last week when he noticed a Landmaster tractor toppling into the Loggaloya - a branch of the Mahaweli Ganga - which is known to have claimed several lives earlier.
He had recognised those who had fallen into the water with the tractor as fellow villagers. He alighted from his bicycle and watched an umbrella coming up from the water with some heads surfacing and again going under water. A good swimmer, he had jumped into the water and had swum to the spot.
"As soon as I jumped in, I pushed those who were holding me towards the bank and swam with them. I was able to save aunts Seelawathie and Yasawathie and with the help of the tractor driver Dharmasena brought them to the river bank, when I saw a seeya struggling in the water," he said.
"He pleaded that he be saved but I could not save him as he went under water. So I shouted for help and people collected on the river bank and started to search for him. Later the police came but the old man had perished under water and his body was washed ashore the next day," he said.
One of those saved was 47-year-old Yasawathie who said that the tractor belonged to her husband and the accident occurred when they were returning in the tractor after work in the field. Seelawathie and the old person who perished had hitched a ride on the tractor mid-way.
She explained how the vehicle had suddenly veered and fallen into the river. She was full of praise for the little boy who saved their lives. The boy is now a hero in the village and his heroic act received much publicity while many thought of giving him gifts in appreciation.
His head master D P Ananda praised him at an assembly in school. But Sandakelum's only regret is that he could not save the old man who had pleaded with him to save his life.
| | | |
| --- | --- | --- |
| | | |
| Yasawathie: Full of praise for her saviour | Seelawathie with her daughter | Dinadasa: the old man who could not be saved |