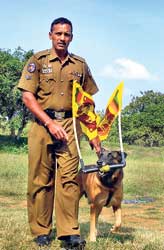 As the country prepares for the Independence Day celebrations Police Sgt. Rajapakse trains one of the dogs who will be performing in an event at the Deyata Kirula exhibition which will be held at the BMICH coinciding with the freedom day celebrations. This police dog Pico stationed in Vavuniya has been involved in many detections of explosives.
Preparations for the 61st Independence Day Celebrations on Wednesday are underway with some 2000 odd invitations being sent to ministers, foreign dignitaries including ambassadors and a special group of Indian delegates and 75 disabled soldiers, The Sundy Times learns.
Public Administration Ministry Additional Secretary S.K. Weeratunga said, on Wednesday, roads leading to Galle Face would be closed at 7.45 a.m. with the main ceremony scheduled to begin at 8.20 a.m.
According to the traffic plan issued by the Public Administration Ministry for that day, the stretch from Kollupitiya to Galle Face on Galle Road will be demarcated as the invitees route, while the vehicles of the invitees could be parked on Lotus Road, Chaitya Road, Bank of Ceylon Road, York Street, Leyden Bastian Mawatha, Chatham Street and D.R. Wijewardene Mawatha.
Invitees have been requested to refrain from bringing mobile telephones, cameras or any other electronic device to the venue. Chauffeur-driven vehicles would be directed to the car parks, while the invitees would be escorted to their seats, by officials at the venue.
Invitees have been asked to enter the ceremonial area before 7.45 a.m. since the road would be closed after that and only invitees whose names are mentioned in the invitation cards would be allowed into the ceremonial area, the ministry said.