Health officials have advised the public not to eat peanut butter or peanut-butter-based products and urged supermarkets and traders to withdraw them until the tests being conducted prove that they are salmonella free.A Health Ministry official said several samples were obtained and sent to the Medical Research Institute last week, after a worldwide alert over a salmonella outbreak in peanut butter.
"It takes at least seven days for the test results to be released and we are expecting the preliminary results tomorrow," the official said.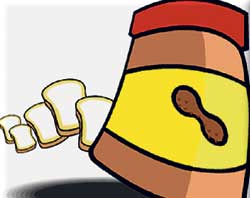 Eight people died and more than 500 became sick in the US after consuming peanut butter. Pic drjean.org
He said Sri Lanka imported peanut butter products from the US, Britain, Canada China and India but even in these countries, the main supplier is the Peanut Corporation of America. So it's advisable not to consume these products until the results are out," he said.
Colombos Chief Medical Officer Dr. Pradeep Kariyawasam said the municipality had also sent two samples to the MRI and were awaiting the results.
He said the municipality had asked traders not to sell peanut butter or peanut-butter-based products unless they had been certified by a recognised laboratory that they were free of salmonilla.
"We will keep a close watch and also conduct random tests," Dr. Kariyawasam said. The Colombo Municipalitys Chief Food Inspector, S. Kathriarachchi said his supervisors had taken samples from supermarkets and advised these outlets not to sell peanut butter and peanut-butter-based products until the test results were released.
Salmonellosis (Salmonella) is a common bacterium that causes food poisoning with symptoms being diarrhoea, fever, abdominal pain and nausea.
During the last two weeks 'salmonella' was reported in 42 states in the United States with eight people dying and more than 500 people falling sick. Many countries have withdrawn peanut-butter products and released food alerts following the outbreak. It was also reported that peanut products manufactured over the last two years may have caused the present salmonella outbreak.