Opposition parties and election monitors complain that despite many incidents relating to the misuse of state property and vehicles being reported from the Central and North Western provinces, little has been done to curb the trend.
The UNP and JVP allege that state property including vehicles and official bungalows are being used for election purposes, while state sector employees are being roped in for campaign work.
UNP Puttalam District MP Palitha Range Bandara said several vehicles belonging to the Fisheries Ministry were being used for campaigning in the Puttalam District. The vehicles bearing numbers WP PB 1677 and NW JX 3324 were being used for campaigning, without the number plates.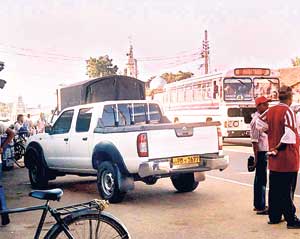 On the campaign trail: A Fisheries Ministry vehicle
"In place of the number plates candidates' numbers and stickers were stuck on the vehicles," he said, adding that these violations had been reported to the Elections Commissioner.
North Western province JVP Chief Ministerial candidate Nimal Herath charged that vehicles belonging to a minister representing the province were being used for the election with their number plates changed.
He charged that employees of government institutions such as the Transport Authority were being used for campaign work, adding that those who refuse to do so have been asked to provide reasons by high up officials.Mr. Herath charged that a prominent minister along with about 80 of his supporters, who had turned the Irrigation Engineers Training Institute of the Irrigation Department in Galgamuwa into an election office, had now left the premises. Students and officials of the Institute were given a holiday and a ceremony that was scheduled to be held last week to commemorate the 50th anniversary of the Institute was postponed for February 15, he charged.
In another incident, he said, a UPFA candidate in Polgahawela had held a meeting at a school in the presence of the staff and a Buddhist monk who had opposed this had been threatened.
Meanwhile the spokesman for the Campaign for Free and Fair Elections (CaFFE), Keerthi Tennakoon said vehicles belonging to the Livestock Development Ministry were seen being used for campaigning in the Nuwara Eliya District.
According to CaFFE, employees of a company coming under the Ministry of Livestock Development complained to the Commissioner of Elections that resources of the Ministry were being used for the campaign of a UPFA candidate from the Nuwara Eliya District. About 70 employees have been co-opted to campaign for this candidate with duty leave being approved from January 8 to February 12.
Mr. Tennakoon said office assistants, drivers and sales persons of the company have been engaged for campaign activities.
"In Nuwara Eliya, Puttalam and Kurunegala too vehicles have been spotted without number plates causing a sense of fear and insecurity among the people," CaFFE spokesman said, adding that in certain instances state logos on the vehicles had been camouflaged by stickers bearing numbers and pictures of candidates.
However, Fisheries Ministry Secretary G. Piyasena denied charges that ministry vehicles had been released adding that they were inquiring into the alleged incidents. Responding to charges regarding the misuse of Livestock Development Ministry vehicles, Additional secretary M. P. E. Rukmani said the ministry had not received any complaints.
"A circular was issued by the Elections Secretariat prior to the elections that state vehicles are not to be used for campaigning. Livestock Ministry vehicles are released only for official purposes. We have not yet received any complaints on the misuse of ministry vehicles, but if we do, an inquiry will be held and appropriate action will be taken," he said.
Secretary of the Public Service Commission H. D. L. Goonewardene too told The Sunday Times they had not received any complaints regarding the misuse of vehicles. Meanwhile, UNP Kurunegala MP Akila Viraj Kariyawasam alleged that principals of some schools in Kuliyapitiya in the Kurunegala District had complained that they had been ordered to carryout canvassing work.
He alleged that this incident took place on January 26, where principals who had to come to the Zonal Education Office in Kuliyapitiya had been taken by bus for canvassing.
"Earlier, principals of schools were called for a meeting by the Zonal Director of Education on January 22 and were told to canvass for the former Chief Minister," he said, adding that the Zonal Drector had said that he was helpless and could do nothing.
However, when The Sunday Times contacted the Zonal Education Office in Kuliyapitiya, Assistant Director J. Udayathileke said that they did not authorize such activity.
Meanwhile Police Elections Secretariat DIG Gamini Navaratne said there was insufficient evidence to carryout probes regarding these allegations about the misuse of state vehicles, buildings and employees.